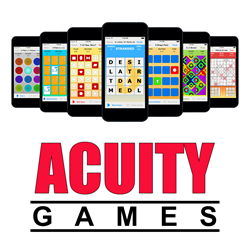 Trophies are earned each day brain health assessment is recorded.
Pompton Plains, NJ (PRWEB) November 25, 2013
Acuity Games is pleased to announce the release of version 8.1 of their brain games for Apple's iPad, iPhone and iPod Touch. The new version provides an innovative brain health trophy feature, with trophies being earned each day brain health assessment is recorded.
Unlike brain-training based brain games, which research suggests are largely ineffective, Acuity Games' brain games provide a groundbreaking model of brain health assessment. With up to 50% of Alzheimer's disease being preventable through healthier lifestyle choices, the key is improving the brain health results of those lifestyle choices. Brain health assessment provides motivation to make lifestyle choices that improve brain health, and verifies that lifestyle choices are producing the expected brain health results.
Acuity Games apps are available as free downloads in the iTunes App Store.
Learn more: http://acuity-games.com.
About Acuity Games
People who weigh themselves are more successful at maintaining a healthy weight. Acuity Games' brain games apply the same principle as a bathroom scale to help maintain a healthy brain. Monthly and yearly Brain Health Assessment makes it incredibly easy to see changes to brain health. With up to 100 years of assessment, Acuity Games' Universal apps for iPhone and iPad motivate people to make the healthy lifestyle choices that maintain brain health. The current lineup of brain games includes:

Concentration: Match sets of hidden letters, numbers or shapes.
Edge Match: Match scrambled square puzzle tiles using colors and patterns.
Flash 2: The classic game of Simon Says using flashes and sounds.
Grid Guru: Tap tiles to repeat increasingly complex patterns.
Matchematics: Match sets of unsolved math expressions.
Sudoku: Match every row, column, and 3x3 sub-grid with the numbers 1 to 9.
Word Hunt: Trace adjacent letters to form words of three letters or more.
Word Warrior: Form words from previously highlighted lettered tiles.