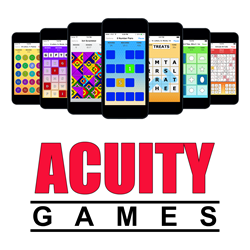 Measuring brain health is the first step towards improving the brain health results of lifestyle choices and fighting dementia.
Pompton Plains, NJ (PRWEB) December 10, 2013
Acuity Games is pleased to announce the release of version 8.3 of their brain games for Apple's iPad, iPhone and iPod Touch. The new version adds an intro screen, and several user interface enhancements. Acuity Games apps are available as free downloads in the iTunes App Store.
With the addition of the intro screen, Acuity Games apps now provide game play totals; letting users know the number of days and the amount of time they spend collecting brain health assessment data. Along with the recent addition of brain health trophies, this new feature provides extra motivation to play the games that measure brain health, and measuring brain health is the first step towards improving the brain health results of lifestyle choices and fighting dementia. The intro screen also provides the rationale behind the revolutionary brain health assessment at the heart of each Acuity Games brain game.
Several user interface refinements are also included in the new version. In keeping with the iOS 7 design goals of focusing on content over chrome, the tab bar has been removed from the Game and Brain Health screens. Navigation between the Intro, Menu, Game and Brain Health screens has been streamlined within the tool bar, and support for swipe gestures to switch screens has been enhanced.
"This new version continues our relentless innovation, with an eye towards our goal of completely redefining brain games," said Dan Hansen, founder of Acuity Games. "Next up, the release of our ninth brain game; as I've stated previously, we are just getting started."
Learn more: http://acuity-games.com.
About Acuity Games
People who weigh themselves are more successful at maintaining a healthy weight. Acuity Games' brain games apply the same principle as a bathroom scale to help maintain a healthy brain. Monthly and yearly Brain Health Assessment makes it incredibly easy to see changes to brain health. With up to 100 years of assessment, Acuity Games' Universal apps for iPhone and iPad motivate people to make the healthy lifestyle choices that maintain brain health. The current lineup of brain games includes:

Concentration: Match sets of hidden letters, numbers or shapes.
Edge Match: Match scrambled square puzzle tiles using colors and patterns.
Flash 2: The classic game of Simon Says using flashes and sounds.
Grid Guru: Tap tiles to repeat increasingly complex patterns.
Matchematics: Match sets of unsolved math expressions.
Sudoku: Match every row, column, and 3x3 sub-grid with the numbers 1 to 9.
Word Hunt: Trace adjacent letters to form words of three letters or more.
Word Warrior: Form words from previously highlighted lettered tiles.