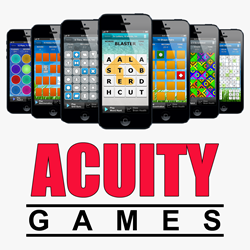 Helping people improve their brain health with free brain health assessment is a revolutionary leap forward.
Pompton Plains, NJ (PRWEB) August 30, 2013
Acuity Games is pleased to announce the release of version 7.3 of their brain games for Apple's iPad, iPhone and iPod Touch. The release switches the games from the lite/paid app model to the freemium app model. All games are now available as free iTunes App Store downloads with minor feature limitations that can be removed via in-app purchase.
The downloaded versions of the games include the following limitations: ads are enabled, landscape support is disabled, and the time between games can be delayed up to 30 seconds. All other features, including brain health assessment, are available. All 3 feature limitations can be removed with a single $1.99 in-app purchase.
"Today's release continues Acuity Games' mission to reinvent brain games," said Dan Hansen, founder of Acuity Games. "Making brain games with brain health assessment available to more people is a major step forward."
"With 7 freemium Universal iOS brain games currently available, it is gratifying to look back on how much we've accomplished as we enter our third year. And with several exciting new games and features currently under development, we are just getting started," he concluded.
About Acuity Games
People who weigh themselves are more successful at maintaining a healthy weight. Acuity Games' brain games apply the same principle as a bathroom scale to help maintain a healthy brain. Daily, monthly and yearly Brain Health Assessment makes it incredibly easy to see changes to brain health. With up to 100 years of assessment, Acuity Games' Universal apps for iPhone and iPad motivate people to make the healthy lifestyle choices that maintain brain health. The current lineup of brain games includes:

Concentration: Match sets of hidden letters, numbers or shapes.
Edge Match: Match scrambled square puzzle tiles using colors and patterns.
Flash 2: The classic game of Simon Says using flashes and sounds.
Grid Guru: Tap tiles to repeat increasingly complex patterns.
Matchematics: Match sets of unsolved math expressions.
Sudoku: Match every row, column, and 3x3 sub-grid with the numbers 1 to 9.
Word Hunt: Trace adjacent letters to form words of three letters or more.
Learn more: http://acuity-games.com