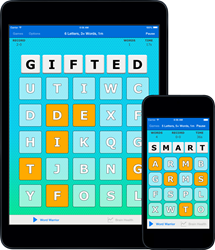 Word Warrior combines a word game and a pattern-match memory game into one fast-paced challenge.
Pompton Plains, NJ (PRWEB) September 17, 2013
Brain Games developer Acuity Games' Word Warrior app is coming to Apple's iPad, iPhone and iPod Touch. The app is currently awaiting review by Apple and is expected to be available on the iTunes App Store by the end of September. The app will be available as a free download with minor feature limitations that can be removed via a $0.99 in-app purchase.
Word Warrior is Acuity Games' new brain game that lets players spell words by tapping correctly remembered patterns of lettered tiles. Like all apps in the Acuity Games line of brain games, Word Warrior provides up to 100 years of brain health assessment.
Word Warrior players can create games with the following options:

Time Limit: From 5 seconds to unlimited.
Word Length: From 3 to 8 letters.
Num Winning Words: The minimum number of words needed to win the game.
Grid Size: 8 grid sizes from 3x3 to 6x7.
Maximum Errors: How many errors to allow before halting the game.
Spelling Changes: Force correct spelling or allow spelling changes.
Continue After Win: Stop or continue games after reaching the number of winning words is reached.
About Acuity Games
People who weigh themselves are more successful at maintaining a healthy weight. Acuity Games' brain games apply the same principle as a bathroom scale to help maintain a healthy brain. Daily, monthly and yearly Brain Health Assessment makes it incredibly easy to see changes to brain health. With up to 100 years of assessment, Acuity Games' Universal apps for iPhone and iPad motivate people to make the healthy lifestyle choices that maintain brain health. The current lineup of brain games includes:

Concentration: Match sets of hidden letters, numbers or shapes.
Edge Match: Match scrambled square puzzle tiles using colors and patterns.
Flash 2: The classic game of Simon Says using flashes and sounds.
Grid Guru: Tap tiles to repeat increasingly complex patterns.
Matchematics: Match sets of unsolved math expressions.
Sudoku: Match every row, column, and 3x3 sub-grid with the numbers 1 to 9.
Word Hunt: Trace adjacent letters to form words of three letters or more.