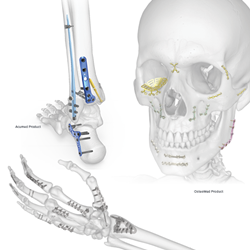 Co-marketing our products enhances our comprehensive solutions, which are designed to help customers achieve optimal patient outcomes.
HILLSBORO, Ore. (PRWEB) March 31, 2022
Acumed is excited to announce the OsteoMed product line will be managed and co-marketed with Acumed's comprehensive portfolio of industry-first solutions to better serve our customers worldwide.
"Enhancing the experience of our customers and their patients is a passion we share," said Sharon Wolfington, President and CEO of Acumed. "Unifying our strengths by co-marketing our products enhances our comprehensive solutions, which are designed to assist our customers in achieving optimal patient outcomes and restoration of function."
Acumed's approach offers numerous benefits to our customers, including improved business continuity with manufacturing and inventory in multiple locations, world-class educational programs, and a new EU distribution center designed to ease global supply chain challenges. "Our united global sales and distribution network supports our commitment to delivering implants to surgeons at the time and place of need," said Lee Brown, Vice President of Global Sales at Acumed.
"Acumed's history of industry-first, highly innovative upper extremity and lower extremity products—combined with OsteoMed's comprehensive lower extremity, craniomaxillofacial (CMF), neurological, and orthobiologics portfolio—expands our global market position," said Chris J. Smith, President of Colson Medical. "This enables Acumed to better serve customers worldwide."
About Acumed
We serve highly skilled, specialized surgeons who demand comprehensive, high-quality medical devices for patients with simple to complex injuries for optimal restoration of function.
Acumed and OsteoMed have more than three decades of experience in the orthopaedic industry, with the mission of aiding the afflicted through the ingenuity of our minds, the labor of our hands, and the compassion of our hearts. Acumed and OsteoMed have three primary campuses in Hillsboro, Oregon; Addison, Texas; and Madrid, Spain, and offices around the world. OsteoMed is a wholly owned subsidiary of Acumed. For more information, visit http://www.acumed.net.
Acumed is a Colson Medical | Marmon | Berkshire Hathaway company.