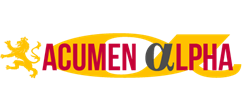 With Acumen Alpha, clients engage industry experts using the solution best designed to meet their unique need.
New York, NY (PRWEB) November 06, 2013
Dowhower has served the investment community for many years and the addition of Acumen Alpha for brokering expert network consultations was a natural progression of its respected business offerings. Now, in addition to offering superior due diligence, business intelligence advisory, and investigation services, with Acumen Alpha, Dowhower now connects industry experts and executives with premier opportunities to consult with other global executives and investment professionals.
"Dowhower's service offering expansion into brokering expert network consultations through the newly created Acumen Alpha brand was largely driven by investment professional needs and executive requests for niche focused market analysis and research needed to support decisions. Clients talked, we listened and responded," stated Timothy Dowhower, Managing Director with Dowhower. "Dowhower is excited to be behind the Acumen Alpha brand and its expert network consultation service offerings. We are very encouraged by the interest we have received from local investment firms and global businesses inquiring about Acumen Alpha services." In additional to the expert consultation services across standard industries, Acumen Alpha Members offer clients access to niche market experts within the medical and quantitative fields.
"We knew to have the best success with Acumen Alpha taking on the largest expert network providers directly was not the way to go about it; while most of the expert networks are regionally focused within specific geographic regions we decided to focus globally by combining Acumen Alpha services with Dowhower solutions while continuing to focus on growing our base," said Timothy Dowhower.
With Acumen Alpha, clients engage industry experts using the solution best designed to meet their unique need. Acumen Alpha solutions are supported by strong standards and an advanced compliance framework to encourage proper consulting while mitigating risk to the client. Acumen Alpha offers a variety of options for clients to engage experts through including: live meetings, research products, telephone consultations, and industry focused surveys and polls through a collaboration system that encourages industry compliance while reducing conflicts of interest. Acumen Alpha has developed a consultation framework that supports industry compliance requirements and supports client's internal standards and compliance while they are using Acumen Alpha members. Engagements between client's and Acumen Alpha Members are managed through technology that enforces and respects each client's unique compliance requirement.
Acumen Alpha one of the nation's leading service providers of expert consultation service companies has grown its expert base to include more than 176,000 industry experts and professionals. Experts and professionals include some of the top professors within their field of expertise, industry leading executives, physicians and medical professionals, and top minds in mathematics and quantitative fields and encompass professionals across technology, finance, accounting, law, marketing, and human resource fields.
Anyone interested in learning more about Acumen Alpha services can visit AcumenAlpha.com. Industry experts who are interested in becoming Acumen Alpha Members to participate in relevant consulting projects can visit AcumenAlpha.com/experts/ for more information.
About Acumen Alpha
Acumen Alpha, one of the nation's leading service providers of expert consultation service companies, provides a one-stop resource for gaining insight from industry executives and investment professionals, (AcumenAlpha.com).
Acumen Alpha, by Dowhower, is one of the largest communities for facilitating the sharing of insight between those who need insight to support their decisions and those who have the insight. Acumen Alpha is a leading company focusing exclusively on brokering consultations between executives, industry experts, and investment professionals for the sharing of insight in both the U.S. and globally.
Timothy Dowhower, Managing Director of Dowhower
203-490-5259
AcumenAlpha.com