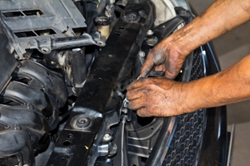 The inline 5 and V6 platform used Acura motors that we are currently selling this year include the J and G block types
Atlanta, GA (PRWEB) August 12, 2015
The TL vehicle series produced by Honda Motor Corporation in the United States and marketed under the Acura brand is now one of the vehicle types that are supported for replacement at the PreownedEngines.com website this year. Used Acura TL engines in I5 and V6 sizes are now featured in the website inventory for sale at http://preownedengines.com/used-acura-tl-engine.
The two main displacement types that are currently available are the 2.5-liter and the 3.2-liter editions. These motors were produced for the TL brand between 1996 and 2002. The units that are available can be reviewed for vehicle identification numbers while using the reformatted search tool on the POE homepage.
"The inline 5 and V6 platform used Acura motors that we are currently selling this year include the J and G block types," said a seller at the PreownedEngines.com website.
One of the strategies that are in place this year to provide more value in the secondary market inventory listed on the preowned engines website is the inclusion of a components warranty. All 5-cylinder and 6-cylinder varieties produced by Honda are available for purchase with a complementary warranty extension.
"People who plan to shop our components inventory this year can find specs for each block as well as information about OEM warranty coverage options," the seller said.
The Preowned Engines company is considering the expansion of its JDM products later this year. When new suppliers are in place, consumers will be notified on the company homepage and through selected media partners on the Internet.
About PreownedEngines.com
The PreownedEngines.com company has remained a go-to parts resource to locate used automobile motors and other accessories on the Internet since 2013. The company has expanded into new markets by partnering with distribution agencies. The PreownedEngines.com company has its own team of experts that now provide daily support by phone and through a customized contact system on the company website.