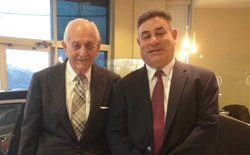 Bridgewater Acura has been named a Dealership of Distinction, the highest honor an Acura dealership can earn.
Bridgewater, NJ (PRWEB) March 26, 2014
Acura is proud to announce that Bridgewater Acura has earned Dealership of Distinction honors for its exceptional performance in 2013.
The annual award is presented to Acura dealerships that achieve excellence in all areas of operation that affect the client experience. The award is considered Acura's highest dealership honor and denotes excellence in the brand's dealer network. This is the third year that Bridgewater Acura has earned this prestigious award.
Acura introduced the Dealership of Distinction award in 1987 to recognize Acura dealerships that consistently delivered an exceptional performance and exemplified the brands core values.
Over the years, the criteria for earning the award have changed to align with Acura's direction. In 2013, Acura made significant changes to the program criteria and introduced a new Dealership of Distinction trophy that depicts its never-ending pursuit of excellence. Bridgewater Acura is among 93 dealerships nationwide to earn recognition in 2013.
"The ability to set your dealership apart as the best of the best is no easy task for an Acura Dealership." says Jeff Conrad, vice president and general manager at Acura. "Our expectations are high to ensure we provide the ultimate client experience in the luxury automobile market."
"Earning Dealership of Distinction honors requires a year-long commitment by every member of the dealership team. It's important we recognize the efforts of those dealership employees who are ultimately the face of Acura."
Bridgewater Acura owner, Bill Vince and General Manager, Michael Galietta echoed Jeff Conrad's sentiments in thanking every employee in every department for their dedication and hard work. "I'm proud of each and every one of them," said Vince.
Galietta commented that "The Bridgewater Acura team is really unique; they always seem to be able to find the energy and enthusiasm to function at the high levels we ask of them." Galietta said that the team understands that customer satisfaction is the dealership's top priority, and they stay focused on that every day.
Conrad added, "I encourage you to visit Bridgewater Acura to experience the superior service offered by its award-winning employees. They can introduce you to features and benefits of each of our Acura models, and they will stand by you through maintenance and service for years to come. This team has proven itself worthy of the title Dealership of Distinction. Stop in to see why."
Bridgewater Acura is located at 1231 Route 22 West in Bridgewater, NJ, a half-mile east of Bridgewater Commons. They carry the full line of technologically advanced Acura performance vehicles, including the TL and RLX luxury sedans, the TSX sports sedans and wagons, and the ILX performance sedan with hybrid option.
To learn more about Bridgewater Acura, visit the dealership, call 908-704-0300, or go online at bridgewateracura.com.