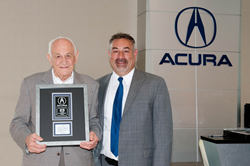 All it takes is a great product, great customers and great personnel and we've been blessed with all three.
Bridgewater, NJ (PRWEB) July 18, 2014
In a ceremony held in the Bridgewater Acura showroom, Bill Vince, the dealership's owner, received a plaque for "25 Years Representing Acura." This made the 90-year old Vince the oldest Acura dealer in the nation to receive the award.
In 1989, when most successful 65-year old businessmen would have been contemplating a comfortable retirement, Bill Vince was getting ready for a new challenge: Starting a new dealership for a new brand, Acura.
When the Honda Motor Company announced in 1984 that it would be introducing a new line of luxury, performance automobiles, and would be granting a limited number of franchises from among its corps of Honda dealers, Vince was quick to apply.
Based on his track record with multiple, successful Honda dealerships, Vince received the franchise for Bridgewater Acura. The dealership opened in June of 1989 in an existing facility on Route 22, which Vince had renovated and remodeled to Acura standards.
Vince was very optimistic about Acura. Built with Honda engineering for the luxury market, Acura was a natural extension of the Honda brand and a move up for Honda owners who desired it. Acura also appealed to owners of other luxury car makes who admired the new brand's reliability, technological innovations and pure fun-to-drive aspect.
Bridgewater Acura was successful right from the start. Vince made customer service the top priority at his new dealership, and buyers liked the treatment they received. Buyers were also enthusiastic about Acura, the "first premium Japanese luxury car brand."
In a congratulatory letter to Bill Vince, Mike Accavitti, Senior Vice President/General Manager, Acura USA, wrote: "It's not just the products that have built the Acura reputation. You and your dedicated team are a large part of this success."
In 1999, Bill Vince hired Mike Galietta, a car guy who shared Vince's passion for providing customers an unparalleled experience. Galietta contributed to the growth and continued success of Bridgewater Acura as he climbed the ladder, eventually being promoted to his current position as General Manager.
Galietta and Mike Lasko, the current General Sales Manager, recognized that the attributes which made Acura a popular new car were now making it a sought-after pre-owned car. They decided to put more emphasis on pre-owned Acura sales, and Lasko played an integral role in making Bridgewater Acura a powerhouse in that department.
2013 was the tenth consecutive year that Bridgewater Acura was the Number One Certified Pre-Owned Acura Dealership in New Jersey and in the top 10 in the nation.
Bridgewater Acura's unwavering commitment to customer satisfaction has earned it a number of honors. Chief among them is the Dealership of Distinction Award, Acura's highest honor given to its top performing dealerships. Bridgewater Acura has won this award three times, most recently for 2013.
The success of Bridgewater Acura has spurred a number of renovations and expansions. In 2012, the dealership completed a major expansion that dramatically increased the size of the Parts & Service Departments, reconfigured the Showroom, and added an enlarged and enhanced Customer Waiting Area and a four-story Parking Deck.
Bill Vince is very proud of how much Bridgewater Acura has achieved in its first 25 years. "All it takes is a great product, great customers and great personnel," says Vince, adding, "and we've been blessed with all three."
Bill Vince's Bridgewater Acura is located at 1231 Route 22 West in Bridgewater, New Jersey, a half-mile east of Bridgewater Commons. To learn more about the dealership, call 1-877-70-ACURA or go online at BridgewaterAcura.com.