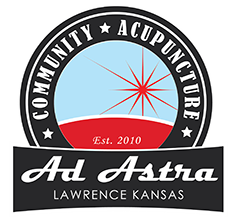 Book A Nap Today
Lawrence, KS (PRWEB) August 26, 2016
Lawrence Journal World, the leading regional newspaper, has recently announced that Ad Astra Community Acupuncture in Lawrence KS (http://www.adastraacupuncture.com/) was voted as the Best Acupuncture & Best of Lawrence 2016 competition. Ad Astra competed with 9 other Acupuncture clinics and the winners were voted on by the Lawrence community.
When Ann Rich, owner and acupuncturist, passed away in 2015, Ad Astra Acupuncture (http://www.lawrence.com/news/2016/jun/16/best-acupuncture-best-lawrence-2016-health-fitness/) would have closed if local businessman Barry Bornstein hadn't stepped in and gave it new life. "It was too valuable of a community resource to let go," Bornstein says. Ad Astra Acupuncture treats anywhere from a half dozen to a dozen fully clothed clients simultaneously, rather than privately treating one patient at a time at a much higher cost. "Where can you get medical treatment for $30?" asks Bornstein. Clients can stay as long as they want, and the experience is so relaxing most people fall asleep for an hour or sometimes longer, Bornstein adds.
Community Acupuncture in Lawrence KS (http://www.adastraacupuncture.com/) is an alternative medical therapy most effective for pain reduction, fertility improvement, stress relief & allergy reduction. Ad Astra treats multiple people acupuncture in a community, or group, setting. Patients are treated, fully clothed, in a large room while resting in reclining chairs. They come in, roll up their sleeves and pants, and settle in while accredited acupuncturist treats them by placing tiny needles to their arms and legs.
Performing Holistic Community Acupuncture in a group setting has many benefits and is the traditional method of treatment in China. Following this tradition allows the setting to be efficient and for Ad Astra to keep their prices low compared to an acupuncturist who only sees one patient at a time. A group setting also lets patients stay as long as they want without time pressure. Community treatment helps friends and family come in and get treated together. And because patients can afford more frequent treatments, the health benefits can increase greatly. And because they are so affordable, community acupuncture is a true resource to those without traditional medical insurance.
About Ad Astra Community Acupuncture
AD Astra is 5 years old and only one of 2 community acupuncture clinics between St Louis and Denver. Community acupuncture is affordable and only $30 per treatment. You are treated in a group setting while fully clothed and relaxing in a recliner. Many people sleep for an hour and wake extremely refreshed.
1410 Kasold Dr. Lawrence KS 66049
(785) 760-1961
http://www.adastraacupuncture.com