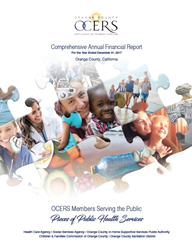 "It can be a challenge trying to make financial data look attractive and interesting." adding "I knew we had some good designs this year, and I am happy that we were recognized for it."
RANCHO CUCAMONGA, Calif. (PRWEB) March 22, 2019
The agency has won multiple awards for Annual Report designs over the last 7 years and was recently awarded 2 more additional awards at the Annual American Advertising Awards event this year in Riverside, Ca.
The two awards this year were for the Annual Report for the San Bernardino County Employees' Retirement Association (SBCERA) and the Orange County Employees Retirement System (OCERS).
Company President Shawn Glaspell says, "It can be a challenge trying to make financial data look attractive and interesting," adding, "I knew we had some good designs this year, and I am happy that we were recognized for it."
The Annual Report for SBCERA featured over 160 pages of information, coupled with high end photography and custom graphics, to communicate the many visual wonders of San Bernardino County theme along with the organization's financials.
"Annual Reports are different than the usual graphic design project," Glaspell says. "Both the graphics/layout and the financial information has to be proofed, reviewed and approved, and that can be a real challenge."
Director of Finance for OCERS, Tracy Bowman explains, "It's great to get recognized for the extra effort that goes into making the annual report and creating a document that is interesting to various stakeholders and readers of the report. We are very happy with the finished product and receiving the award is an added bonus."
"Annual Report design and production is crucial in communicating financial information to all stakeholders as it must communicate competence, stability and accuracy…all in an easy to read, friendly way," Glaspell says.
About Spencer Lewis
Spencer Lewis is a boutique Ad Agency based in Rancho Cucamonga, Ca. specializing in graphic communications and digital marketing. For more information please visit: https://spencerlewis.com