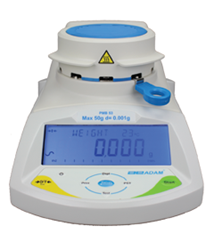 Milton Keynes, United Kingdom (PRWEB) February 26, 2014
Adam Equipment, a global manufacturer of professional weighing equipment, is pleased to announce that its PMB moisture analyser and Highland portable precision balance are now available for use in food testing. Adam Equipment will display the PMB and Highland, in addition to scales for the food industry, at Gulfood in the Dubai World Trade Centre, February 23-27, Hall: Za'abeel, Stand: Z-L50.
With the possibility of worldwide adoption of more stringent safety measures, food testing laboratories face the prospect of required accreditation. The use of high-precision devices in the food production testing process will be essential, as laboratories are required to meet international standards. With more stringent testing requirements worldwide, testing laboratories will need equipment to meet the demands. Adam Equipment's quality, affordable weighing instruments are used by food testing laboratories.
Moisture and weight assessments provide critical information about content, quality and safety in food. The levels of acidity and water, along with the absence or presence of bacteria, molds, pathogens and other contaminants, can be determined by analysing food samples. It is also important to test freshness and validate sanitation procedures.
With simple operation and rapid response time, PMB moisture analysers are excellent for use in food processing and quality control. PMB offers an easy way to measure moisture content in foods, helping production workers assess contents of mixtures and batches.
The automatic test-setting function enables easy recall for frequent testing of the same items without additional user programming. Users can log or print information, communicate with computers or transmit test programs and results using the USB and RS-232 interfaces. There is no need for additional software to take readings, giving users freedom to collect data in any location. A single 400-watt halogen bulb heats samples in 1 °C selectable increments. Three heating options give users the flexibility to customize test methods and temperatures for different materials.
Highland portable precision balances are well-suited for many food testing applications, including spot-checking and weighing samples to ensure correct amounts for quality control. With more features than other comparable balances, the Highland delivers value and quality. Laboratory workers performing food tests in alternate locations can benefit from the Highland's portability, as the balance easily can be transported between the lab and the field. The rechargeable battery allows use when power is unavailable. A removable draft shield improves measurement precision, providing protection against fluctuations caused by air movement. To enable more precise food sample measurements, the Highland features Adam's unique patented HandiCal® internal calibration with a built-in mass, while ShockProtect® safeguards against accidental overload. Users can transmit data to computers, printers and data loggers with the RS-232 and USB interfaces.
The adoption of increased safety measures in food testing means safer and better-quality food products will reach the marketplace. With high-quality equipment, laboratories are better equipped to perform tests.
About Adam Equipment
For more than 40 years, Adam Equipment has designed and manufactured precision balances and scales for professionals worldwide in the laboratory, medical, education, industrial, food, animal/veterinary and jewellery markets. Adam is committed to offering an extensive selection of weighing equipment with best-in-class value. Headquartered in the United Kingdom, the company has strategically established offices in the United States, South Africa, Australia and China to provide product support and speedy delivery to distributors. For more information about the company and its products, go to http://www.adamequipment.com.