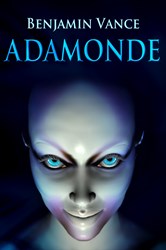 People should read ['Adamonde'] if they believe in the innate goodness of life, love and family, wherever its origin, and whenever it's found.
Phoenix, Arizona (PRWEB) November 27, 2013
Now available in e-book format; Benjamin Vance's 'Adamonde' unveils a female extraterrestrial that is transported to Earth from one of only three inhabited planets in the universe. She's been granted cosmic knowledge to assist in saving Earth from its slide into extinction and upon her arrival is rescued physically and mentally by a young man who is attempting suicide. Together they somehow find mutual healing and eventually deep love.
The mature storyline revolves around unselfish sentiments, enduring love, antagonist murder and treachery. A large Swiss pharmaceutical company hires assassins and repeatedly attempts to capture or kill Adamonde to attain her unique biological properties for selfish gain. Adamonde and her group receive assistance from the Mormon Church, the government of a small Caribbean country, the World Health Organization and from many dissimilar humans in their quest to simply be left alone to enjoy each other, raise their hybrid children and teach Earth how to extend life and reduce suffering among its inhabitants.
In their frantic search for peace they stumble across a developing race of alien hybrids on earth that have been living and propagating a furtive and comfortable life, thanks to another of Adamonde's kind who traveled to Earth over a hundred years earlier. The two aliens quickly become friends and their extended families combine to combat various groups of killers hired by the pharmaceutical company and others.
Vance develops the cast and dialog to demonstrate the immense barriers that exist during attempts to present enriching scientific facts to Earth's population; expecting even a small fraction to understand or care about the redeeming effects. The characters repeatedly attempt to convince the world that Adamonde is real and has life-giving information for Earth, but are not taken seriously; even reviled. Various politicians, the world's largest Christian religion and U.S. media require obdurate proof of her powers and even after those powers are demonstrated in earnest; are neither appreciated nor understood.
In order to validate Adamonde fully, the characters turn to an International Science Fiction Conference venue and illicitly demonstrate her powers there. Although accepted by hundreds in the convention, a wider audience seems impossible until the small Caribbean country allows Adamonde to speak in her native language to the United Nations General Assembly. Although given immense credibility after her speech, she is also exposed to the very foes who want to consume her for their own remuneration.
Appealing not only to Science Fiction enthusiasts, Vance interweaves several love stories in order to give the novel a more humanistic fielding. Adamonde, her husband Jonathan and their friends Nic and Jessana become involved in a loving and protective extended family that contributes to Adamonde's wellbeing and safety. The various attributes of the family somewhat align with Waardenberg Syndrome and serendipitously provide a believable and cleverly deceptive façade for the group.
The family is finally forced to meet the antagonists head-on in a battle that leaves many dead and their vengeful blood lust hopefully sated. The final battle amalgamates the family into a formidable opponent and finally ensures their place in free society.
"Adamonde highlights the drastic lengths to which many powerful and influential people and groups will go to control events, information and to retain power," says Vance.
"People should read this book if they believe in the innate goodness of life, love and family, wherever its origin, and whenever it's found."
"Adamonde" is published exclusively in ebook format by eBookIt.com and is available from popular online retailers, including Amazon.com, BN.com, and Apple's iBookstore.
Contact
William W. Southworth
Benvance.book(at)gmail(dot)com
Telephone: 928-821-1469
About Benjamin Vance
Benjamin Vance is a retired Military Officer and Veterinarian. His two degrees in business have buttressed two successful businesses, as well as Vance being awarded two patents and nine copyrights. Having lived in Germany, The Philippines, Vietnam and several U.S. States, Vance now makes his home in the Southwest.
About eBookIt.com
Since 2010, eBookIt.com (based in Sudbury, Massachusetts) has helped thousands of authors and publishers get their books converted to ebook format, and distributed to all the major ebook retailers, including Amazon.com, Barnesandnoble.com, Apple iBookstore, Kobo, Sony Readerstore, Ingram Digital, and Google eBookstore.