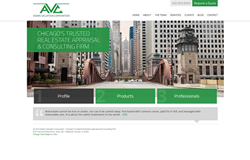 As a real estate appraising company, there's not much you can do to wow people, but compared with other appraising websites, WOW.
Oakbrook Terrace, IL (PRWEB) May 03, 2014
Adams Valuation Corporation is the trusted real estate appraisal and consulting firm in the Chicago area, including the six county metropolitan Chicago area. With 35 years in business, Adams Valuation has worked with hundreds of clients including financial institutions, legal firms, municipalities, and private citizens. They are pleased to announce the launch of their new website redesign and development by Idea Marketing Group.
"We had fuzzy ideas on how we wanted the website to look and the interface, and the team at Idea gave us strong direction from day one," said Alex Adams, staff appraiser at Adams Valuation. "The process was both fun and tedious for us as we had a lot to get over to Idea. The fun part was watching the raw data turn into something really neat. As a real estate appraising company, there's not much you can do to wow people, but compared with other appraising websites, WOW. Our new website is fantastic!! We love it!"
Really appreciated the patience Idea had with us as we sent over revisions and suggestions. And how quickly they were made. Also appreciated their patience as we switched servers and some of the issues we had; Idea offered suggestions and stepped in where possible."
Adams Valuation prides themselves in providing accurate information and real estate appraisal for their clients, whether it is determine market value, liquidation value, investment potential or helping to mitigate eminent domain, estates and partnerships, feasibility studies or rent determination. Adams Valuation can determine appraisal values for land, residential, commercial, hotels, industrial and just about any other property or asset resting on land.
Adams Valuation website was outdated and did not match the company's goals and objectives and was in need a full redesign. They came to Idea Marketing Group, a Chicago web design firm, and hired Idea to build a new website on the Wordpress platform with a blog and a strong SEO component.
The team at Adams Valuation have always provided their clients with timely information and they have realized the benefits of incorporating a blog into their new website to help process the information more quickly and in order to keep clients updated in one convenient place. The blog will increase their online visibility in popular search engines and be a valuable resource for their current and potential clients.
Visit Adams Valuation website here.
Idea Marketing Group, located just west of Chicago, offers web design, web development, and marketing services to clients nationwide. With additional specialties in branding, graphic design and marketing services. Idea draws from experienced, in-house talent paired with unmatched customer service at award-winning levels.