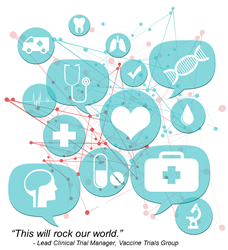 This can vastly accelerate bringing novel therapies that address global health issues to market,"
Seattle, WA (PRWEB) June 19, 2014
OTB Solutions delivers more innovation by releasing their new electronic data capture (EDC) module for their highly flexible Adaptive Clinical Trial Management System (CTMS). This new module enables data collection on any device, anywhere, at any time. "This can vastly accelerate bringing novel therapies that address global health issues to market," says OTB Solutions' Kristin von Hahn. "By using this EDC, the right data is collected at the right time." Ms. von Hahn elaborated. "Even if a visit is missed or the clinical trial protocol is modified mid-study, the quality control happens at the time of the visit and not after when errors are difficult to rectify and the results may need to be excluded." The EDC module extends the Visit Scheduler module which was launched in April.
Customer Needs
One of OTB Solutions customers', a large cancer research center, has already hugely benefited from deploying the Visit Scheduling Module for their vaccine trials group. They pointed out they were struggling to keep track of the data when visits were missed or there was a change in the protocol design. To address this, OTB Solutions developed its EDC module which appears as a tab when data for a specific visit needs to be collected. This highly flexible configurable module can be customized for a specific protocol in minutes without code. The data collected is visible everywhere as soon as it is collected.
Information about the Adaptive Clinical Trials Management System is available at http://www.otbsolutions.com/solutions
About OTB Solutions Group, LLC
Founded in 2002, OTB Solutions is a worldwide leader in business process management and automation solutions. The company offers a wide range of products and services designed to help smart people solve tough problems.
OTB Solutions and Adaptive Clinical Trials Visit Scheduler are either registered trademarks or trademarks of OTB Solutions in the United States and/or other countries.
The names of actual companies and products mentioned herein may be the trademarks of their respective owners.