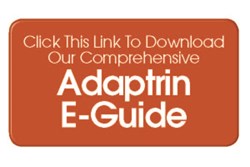 Healthy Living In A Changing World
Staten Island, New York (PRWEB) September 18, 2013
Adaptrin, the scientifically validated, all natural Tibetan herbal supplement announced today that it now has a downloadable E-Guide offering a no-obligation practical informational brochure for the general public. Potential consumers interested in this all-natural Tibetan herbal supplement that may enhance both circulatory and immune building systems of the body in both men and women* for healthy living can now receive information instantly about this amazing product in a comprehensive, yet easily understandable information brochure.
Earlier this year, Adaptrin, developed by Dr. Vladimir Badmaev, M.D., recently announced the product's re-release from the company's official website and distribution point to the online market. Doctor Badmaev believes that offering Adaptrin through one trusted information source and outlet will ensure secure and consistent information and communication about the supplement to both customers and health practitioners who are consumers of, or are involved, in the herbal vitamin and supplement industry.
Adaptrin has been written about in multiple medical publications, magazines, and peer-review papers throughout its multi-decade long history, but it has yet to be put into a comprehensive, yet simplified form until today. Potential consumers can go to the Adaptrin website homepage and easily find the downloadable E-Guide link right on the front page. Click this link and instantly receive a generous offering of the products history, studies, goals, and herbal make-up, all without any obligation or forfeiting of personal information on the consumer's behalf.
"We keep a close eye on the developments in the natural herbal supplement field. And we see a great potential for Adaptrin® to secure positive cardiovascular and circulatory health in men and women and enhance their quality of life," said Badmaev.
He continued: "This proprietary formula, which I've continuously developed based on a long-standing family tradition in Tibetan Medicine, is helping men and women get healthy and get their lives back toward maintaining a wellness focus. I want to share this information with as many people as possible, hence the new Adaptrin E-Guide."
Adaptrin® is one of the most researched and clinically tested traditional multi-component formulae known (Tibetan Medicine. Badmaev, V. 1999 (May). In a book titled: Essentials of Complementary and Alternative Medicine by Wayne B. Jonas and Jeffrey S. Levin; published by Lippincott Williams & Wilkins. ISBN: 0-683-30674-X: 604. Amazon.com). Studies validate that Adaptrin® plays an adaptogenic/bioprotectant role by safeguarding the integrity of live cell against stress, and helping fulfill cell's physiological potential.
ABOUT ADAPTRIN
Adaptrin is a unique proprietary botanical adaptogen/bioprotectant (Badmaev, V, Majeed, M. Adaptogens and bioprotectants. Nutrition Science News. 1995) product. It is formulated on the principles of Tibetan medicine and is designed to regulate, normalize, and support the healthy cardiovascular and immune systems in men and women, providing a platform for healthy living and optimal aging.*
Adaptrin® hopes to continue helping people to feel better and have all around increased qualities of life.
Consumers will not find Adaptrin® in any vitamin store, retail health food location, or any typical place to buy vitamins. Adaptrin® can only be found on http://www.adaptrin.com.

These statements have not been evaluated by the U.S. FDA. This product is not intended to diagnose, treat, cure or prevent any disease.