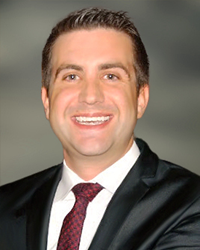 "At a company like Adcap, our people are our most valuable resource," said President Matt Waring,
Alpharetta, GA (PRWEB) March 17, 2015
Following a record breaking 2014, Adcap Network Systems has continued its trend of promoting from within with the promotions of Steve Norton to Director, Systems and Solutions and Bradford Wilkins to Vice President, Talent Management & HR Services.
"Promoting from within is the very fabric that Adcap was built on." exclaimed CEO Christine Versluis, "In fact, almost our entire senior leadership team has been promoted from within the organization."
Steve Norton began over five years ago as a deployment engineer before being promoted to Solution Architect in 2013. With the creation of this new position, Steve will be working to more fully define the solutions that Adcap provides, along with how our people and systems work together to help design, deliver, and support those solutions.
This new position will report to CTO Rolf Versluis, who explained, "This promotion and new role recognizes the additional work that Steve has been doing for years and will allow him to make full use of all the experience he has gained in the past in his many different and challenging Information Technology roles."
In addition to Steve's promotion, Adcap has promoted Bradford Wilkins to Vice President, Talent Management and HR Services after two years of building the talent practice from the ground-up. His accomplishments including the overhaul of the talent acquisition process, implementation of training programs such as the Technical Apprentice and Sales Apprentice positions, and integration of talent & HR practices across the organization.
"At a company like Adcap, our people are our most valuable resource," said President Matt Waring, whom the Talent Management department reports to. "Bradford's success building programs to identify, develop and promote talent at our company has propelled us to national attention as a leading Cisco Solution Integrator and a Best Place to Work in Atlanta."
Adcap has been recognized as Cisco Partner of the Year, a Top Workplace in Atlanta by the Atlanta Journal-Constitution and the #1 Small/Medium Business to Work for in Atlanta by the Best and Brightest.
For his work at Adcap, Bradford was recognized by SHRM-Atlanta with a Pegasus Award for outstanding individual contribution and named by TheLadders.com as the #1 Corporate Recruiter in the USA in 2013. Since starting at Adcap, he was also featured in the January 2014 edition of Talent Management Magazine and has spoken at events for LinkedIn, TheLadders.com, Workforce Live, The Conference Board, TLNT, Social Recruiting Strategies Conference and The Talent Management Alliance where he was most recently a Day 2 Keynote at the "People in Energy" Conference.
These management promotions are just the tip of the iceberg, as Adcap already has identified four more internal promotions taking place in Q2 2015. It is an exciting time to be part of this leading Cisco Solution Integrator. Several openings are available at http://www.workingatadcap.com
ABOUT Adcap Network Systems
Adcap Network Systems (http://www.adcapnet.com) is a Cisco Gold Partner and IT Solution Provider based in Alpharetta, Georgia with locations throughout the southeast. Adcap was named 2013 Cisco 11 State South Area Partner of the Year and was named one of the 100 Fastest Growing companies in Atlanta by the Atlanta Business Chronicle. The Adcap team has many years of experience in planning, deploying, and supporting business technology solutions in the area of Unified Communications, Data Networking and Security, and Converged Computing Architecture.
Other Recent Awards Include:
-Top Workplace in Atlanta by Atlanta-Journal Constitution
-Inc 5000 Fastest Growing company in USA by Inc Magazine\
-Atlanta's 101 Best and Brightest Companies to Work For!
-Cisco Architectural Excellence in Collaboration
-Atlanta's Top 12 Women-Owned Business by Atlanta Business Chronicle
For more information on Adcap Network Systems, contact Jenny Corcoran at jcorcoran(AT)adcapnet.com