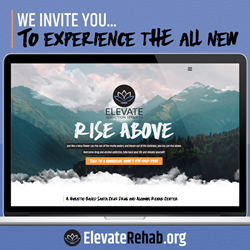 You have to be strong externally and internally to say, 'Never again,' to the substance that once held you down. We think our new logo, website and other brand identifiers better convey that concept now.
Santa Cruz County, CA (PRWEB) December 01, 2016
Over the holiday weekend, one of California's largest addiction treatment providers, Elevate Addiction Services (Elevate), launched a new-look website along with a new logo and brand assets. The redesigned and retooled website ElevateRehab.org features stunning imagery, as well as a new color scheme and easier navigation than its predecessor.
A large focus of the revamped website is not just on which types of addictions Elevate treats, but on the experience a client will have when he or she enters the inpatient drug or alcohol rehabilitation program. Elevate's website also features exclusive resources available to any visitor of the site. These resources include a digital brochure and several eBooks on understanding addiction and the best ways to treat it.
Other notable features of the new-look ElevateRehab.org include:

More Content and Video
Responsive Design for Mobile Devices
Pages Dedicated to Elevate's Philosophy, Mission and Methods
Online Insurance Verification Form
Expanded, More-Visual Blog
Reason for Rebranding
"We thought heading into 2017 was the perfect time to unveil our new brand strategy," Elevate Addiction Services President Dan Manson said. "We thought it would be wise to add an additional, modern logo as well as update our website to better reflect the type of clientele we typically serve, as well as give readers a better feel for the program."
"We believe that rehabilitation from drugs or alcohol use is an active, physical approach, meaning fitness training, healthy eating and nutritional education. You have to be strong externally and internally to say, 'Never again,' to the substance that once held you down. We think our new logo, website and other brand identifiers better convey that concept now."
Elevate's Northern California Locations
Elevate operates two large treatment facilities in northern California to host its unique inpatient treatment program. The primary facility is centered in the hills above Watsonville, Santa Cruz County, and is a short drive away from the coast as well as cities such as Monterey, San Jose and San Francisco. This spread-out, ranch-style facility supports nearly 50 clients in the inpatient program at any given time, as well as up to another 24 clients in a transitional housing program.
Elevate's second facility is in beautiful South Lake Tahoe, just a short walk from the world-famous lake. This summer camp-style property borders a state forest with gorgeous tall pine trees all around, which is typically covered by snow in the winter. Elevate's South Lake Tahoe facility supports as many as 70 clients at once. Clients at this facility frequently get to visit the lake, forest and surrounding beautiful scenery.
A third facility is currently being renovated in the foothills near Sacramento and will be open in 2017 to service nearly 25 clients.
Both of Elevate's facilities feature amenities such as exercise equipment, outdoor basketball and volleyball courts, yoga mats, and plenty of space to go on a run or hike. When it comes to physical training, Elevate employs several CrossFit® trainers and provides fitness coaching at one's own pace. Clients are also encouraged to participate in fitness competitions with staff to help bond as a group. Overall, Elevate's staff aims to help clients rebuild themselves physically, mentally and emotionally.
The Elevate Program: How It's Different
Elevate's unique, flexible addiction rehabilitation program consists of approximately 90 days of Detoxification, Physical Healing and Mental Healing. Clients do not move on to the next stage unless they are ready and have shown enough progress to advance.
"Elevate requires the client to work on themselves in a very measurable way, including changing their addictive behavior, taking responsibility for their actions, making amends for their past, and becoming positive and productive," Manson said. "It was not designed to be an easy program, but it is an effective one."
Since the Elevate program is not strictly time-based, this means some clients can be afforded more than 90 days until they've shown the progress to graduate. This allows clients and families to not have to "watch the clock" constantly, but instead focus on the benchmark goals that one needs to reach in order to advance to the Aftercare stage of recovery.
Commitment to Holistic Healing
As the rehab provider's new website details, Elevate takes a holistic-first approach to recovery, boasting one of the most expansive lineups of holistic treatment offerings in the industry. Elevate's holistic program include activities and modalities such as:

Mindfulness Practices
Breathing Exercises & Meditation/Yoga
Nutritional Awareness Education
Art & Music Therapy
Aromatherapy
Exercise & Physical Fitness
Adventure/Experiential Therapy
Much More
To learn more about Elevate Addiction Services, please visit the new https://elevaterehab.org/.