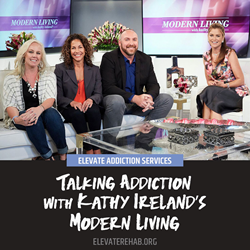 She and her crew thoroughly highlighted our mission to help people beat their addiction, avoid relapse and achieve success in life
Santa Cruz County, CA (PRWEB) January 26, 2017
Elevate Addiction Services, one of California's largest addiction treatment providers, was recently featured in a near-20-minute segment on "Modern Living with Kathy Ireland." The episode aired to a worldwide audience earlier this month on the E! Entertainment Television network and Bloomberg International as sponsored programming.
Elevate Addiction Services President Dan Manson and Director of Corporate Affairs Ashly Guernaccini were invited to join Ireland in studio to discuss addiction and the treatment process. The program also featured on-location footage of Elevate's staff, clients and primary facility.
"We're truly honored to have been featured on Mrs. Ireland's program for such an extended segment," Manson said. "She and her crew thoroughly highlighted our mission to help people beat their addiction, avoid relapse, and achieve success in life. We were glad to have been chosen as the featured treatment provider for such a detailed look at addiction treatment and relapse prevention."
The "Modern Living" segment began with a focus on mitigating the risks of relapse. Manson started out by explaining Elevate's overall approach to recovery treatment and relapse prevention.
"We offer a long-term holistic program, which uses evidenced-based therapies to treat the whole individual – not just a symptom of addiction, but their entire life: mind, body, spirit, what went wrong, what led them down this road – all the reasons behind it," Manson said on the program. "So, we want to teach (clients) to live a balanced, rounded life. And that's what helps them succeed."
"Modern Living" also solicited insight from several other members of Elevate's executive and clinical staff.
"One major aspect is that (clients) learn socially in an environment without the need for drugs or alcohol," Chief Operating Officer Nate Tuddenham said.
Manson said there's an educational component to Elevate's program, in which clients learn and reflect on what led to their addiction. He added that Elevate places an increased emphasis on exercise and nutrition in recovery, so that clients "feel good about themselves physically."
Guernaccini later elaborated on Elevate's approach to physical healing in the recovery process.
"When you add in the component of exercise, it helps (clients) to produce natural endorphins, so they actually do get happy," she said. "These are things that are going to add to their life (and) enhance their life – things that they can do once they leave that will keep them feeling good.
"If you can get yourself feeling better the right way – through nutrition and proper exercise – then you don't need to reach for that substance. You don't need that drug to make you feel better."
Ireland's program then shifted its focus to what makes Elevate Addiction Services unique in the rehabilitation industry.
"One of the biggest things that sets us apart is we don't like to attach the stigma of 'once an addict, always an addict' to our clientele," Guernaccini said, later adding, "We don't simply take people off drugs by feeding them medications. We try to take them off drugs in an atmosphere where they don't have to be dependent on anything at all."
Manson then expounded on why Elevate doesn't rely on mind- or mood-altering medication (such as anti-anxiety or painkilling substances) to alleviate a client's withdrawal from addiction.
"What we do is we just take everybody off of everything safely – with a doctor's supervision," the Elevate president said. "They wean off of all these things, and so they get to the point where they don't need to take any medication at all – and then we see where they're at. And in that case, most of them find that they don't need medication at all. In fact, they just need to manage their lives."
Other Elevate staff members had a chance to articulate the difference between their program and others.
"At the beginning, people are a little fragile. They can be really emotional. They're detoxing. And we just help them through all of those processes," Director of Communications Carolyn Cover said. "We get to see them grow every day as they move through each stage of the program."
The Elevate inpatient program lasts roughly 90 days per client and consists of three flexible stages: Detoxification, Physical Healing and Emotional Healing. Once a client graduates the program, they are given a structured aftercare plan, including support group referrals and a direct connection to an Elevate staff member on an ongoing basis.
"On a day-to-day basis, you can see a client change from being a person that is in complete denial about their addiction … to a person that is responsible and is taking full accountability for where they put themselves," Director of Client Counseling Thomas Legan said. "So it's a big change that you can see here at Elevate."
Guernaccini and Manson later explained why Elevate believes in at least 90 days of treatment rather than a one-month program.
"Often times, after 30 days, you're really just coming out of the fog," Guernaccini said. "You haven't set enough time up for yourself to reinforce positive habits (and to) get a routine in place that's going to really provide for a successful future."
Manson added, "If you really think about it, to someone who's been abusing drugs for 10 years, 30 days is just such a small amount of time. Ninety days gives a lot more time to tackle the issues they need to tackle."
Manson and Guernaccini's interview with Ireland culminated with the opportunity to explain how Elevate's program has been able to reach individuals who haven't had success in other rehab facilities.
"There's always hope. There's a lot of different treatment programs out there. There's alternatives to what they might have done before," Manson said. "Some people feel like, "Oh I've tried rehab. It didn't work.' Well, there's a lot of different treatment methods. So, in fact, we often have more success with the guys who have been through four, five, or six other programs before they come to us, because they come to our program and they say, 'I've never been to anything like this before. This is amazing. This is incredible. Why didn't I learn this at the other places?'
"And we still have success with people that this is their first time at rehab. So, what ends up happening is that it's a different approach. It's not the same thing that they've ever done before."
To see the entire "Modern Living with Kathy Ireland" featured segment with Elevated Addiction Services, visit here.
Accredited by The Joint Commission and the Commission on Accreditation of Rehabilitation Facilities (CARF), Elevate Addiction Services boasts large treatment facilities in both Santa Cruz County and South Lake Tahoe, California. The Elevate program accepts men and women 18 years and older who are struggling with a dependence on alcohol, illicit drugs, or prescription drugs.
To learn more about Elevate Addiction Services, visit the newly redesigned https://elevaterehab.org/.