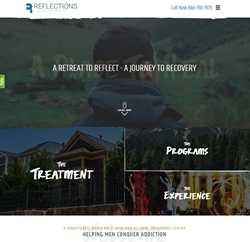 More people are turning to their mobile phone, laptops, and tablets to find help. Whether they access our new website from a smartphone or a desktop computer, our audience will have the same easy-to-use experience.
Prescott, Arizona (PRWEB) October 21, 2016
Reflections Recovery Center has launched a brand new website designed to inform and encourage individuals struggling with addiction to reach out for the help they need. The new website will serve as an online access point for those in Arizona and surrounding states. The website will address the conditions, therapies, and information prospects and clients need to make informed decisions about their health and futures. As the website replaces the older version, the company invites all interested individuals to explore https://reflectionsrehab.com/ to learn more about the program.
Company Expects Improved Outcomes From Newly Designed Website
The path to recovery starts with information and support. In a highly digitalized world, Reflections Recovery Center recognizes the potential impact website content may have on those in need. Company spokesperson, Adam Bartholomew, describes the goals of the new website, saying, "More people are turning to their mobile phone, laptops, and tablets to find help. Whether they access our new website from a smartphone or a desktop computer, our audience will have the same easy-to-use experience. We think this new user experience can enhance the admissions and recovery processes."
Instead of searching through several menus, the website showcases new navigation. Site visitors will easily find information about the admissions process, health insurance benefits, alcohol and drug addiction therapies, treatment programs, and contact information. Seamless information transitions will reflect the Center's mission to completely address addiction issues and set clients on a permanent path to recovery.
The Role Of Diversified Treatment In Overcoming Addiction
Reflections Recovery Center's newly designed website highlights the customized treatment programs available onsite. Those interested in learning more about the Center will find information on several different therapies designed to enhance addiction treatment. Each addiction therapy pairs with relevant mental health therapies, which allows treatment providers to create a permanent solution to the long-term addiction recovery journey.
Cognitive Behavioral Therapy (CBT)
CBT focuses on transforming a client's thought patterns. Those who struggle with addiction often struggle with co-occurring mental health difficulties. CBT teaches individuals to challenge negative thought patterns, recognize fallacies, and replace them with positive thought patterns. Over time, this practice can effectively "rewire" the brain for long-term benefits.
Dialectical Behavioral Therapy (DBT)
In conjunction with CBT or on its own, DBT teaches skills that allow individuals to confront negative reactions and defuse intense emotions. The therapy instills skills such as mindfulness, distress tolerance, emotional regulation, and interpersonal effectiveness to give clients the power they need to move past panic, fear, anger, and frustration.
Experiential Trauma Therapy/Emotional Transformation Therapy (ETT)
ETT uses eye movement patterns, psychotherapy, and the strategic use of light to change negative thought processes. Used primarily for individuals with mood disorders, this therapy can ease negative memories and improve addiction recovery responses.
Psychoeducation Rehab Treatmen
Through education, clients can better understand their own internal struggles and the therapies that may provide long-lasting relief. This treatment activity empowers addicted individuals to play an active role in their recovery process.
Addiction Recovery Focused Meditation
Meditation improves an individual's ability to focus on the present. Avoiding negative thought spirals can decrease the risk of drug abuse relapse and reinforce the concepts behind other therapies, such as CBT and DBT.
Individual And Group Therapy
Both one-on-one and group therapy sessions give clients perspective on their own recovery journeys. Individually, they can focus on personal goals, struggles, and thought patterns. In a peer setting, clients often feel supported and part of a community. Group therapy teaches interpersonal communication skills while revealing insights an individual may not otherwise understand.
Other Therapies
In addition to these highly successful therapies, the Center offers motivational interviewing – therapist-driven sessions focused on change, validation, and solutions. Eye Movement Desensitization and Reprocessing helps those who suffer from trauma and post-traumatic stress disorder overcome painful memories. The therapy uses targeted physical stimulation to desensitize an individual's experience with a negative memory. Trauma Informed Care focuses on the link between addiction and traumatic memories. During this therapy approach, clients work through and resolve traumatic memories.
Reflections Recovery Center's New Website Links Care With The Client
Every page of the newly designed website reinforces the Center's approach to addiction care and recovery treatment. Each client receives a customized therapeutic schedule designed to improve rehabilitation outcomes. The company looks forward to bringing information, insights, and motivational stories through its new digitalized approach.
About Reflections Recovery Center
Reflections Recovery Center is an addiction rehabilitation facility located in Prescott, Arizona. The Center holds a Joint Commission National Quality Approval seal. Treatment providers use a clinical background and an individualized approach to create the right therapy regimen for each client. Both clients and family members receive the skills they need to overcome addiction and related disorders permanently. Visit https://reflectionsrehab.com/ to see the newly designed website and find out more about Reflections Recovery Center.