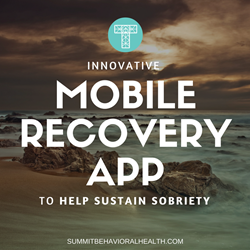 By partnering with Triggr Health, Summit Behavioral Health has given clients a new tool to empower their recovery.
West Windsor Township, NJ (PRWEB) August 26, 2016
Summit Behavioral Health, a network of detox, residential and outpatient treatment facilities in the Northeast, has announced it is now offering clients a drug and alcohol recovery app created by Triggr Health.
Triggr Health's mission is to improve outcomes by enabling innovative, predictive, and personalized care via their real-time data platform. Statistically, less than 10 percent of addicts and alcoholics who enter treatment are still sober after one year. With escalating numbers of people dying from drug and alcohol abuse, Triggr Health leverages phone sensors and phone data to empower proactive outreach and ensure those in recovery have the support the need when they need it.
What Is the Triggr Health App?
The Triggr Health app is revolutionizing the way recovering addicts follow their treatment plans, giving them immediate access to helpful resources and support via a smartphone. The app tracks a client's recovery goals in real time, helping lead to around-the-clock care and immediate advice when the client needs it most.
This mobile recovery app requires little input on the user's end and is completely personalized to the client's own path to recovery. Triggr Health uses machine learning and mobile phone data to comprehend real-world behavior during one's recovery. This enables Summit's care team to deliver proactive and engaging interventions in an instant.
By partnering with Triggr Health, Summit Behavioral Health has given clients a new tool to empower their recovery. Clients undergoing treatment at one of Summit's outpatient facilities can follow recovery goals, learn self-awareness and seek personal accountability right from their mobile device.
Summit Behavioral Health alumni can use the app for additional support in times of need and to stay connected during the most important journey of their lives. Summit also encourages residential clients to use the sobriety app every day, establishing a routine before they transition to outpatient treatment and beyond.
Summit Behavioral Health acknowledges the Triggr Health app as being on the forefront of addiction treatment. From instant access to around the clock support, the program offers an endless amount of benefits to its enrollees.
Clients can discover the myriad benefits of the Triggr Health app on their own when they download it during their treatment program at one of Summit Behavioral Health's treatment facilities. Healthcare professionals at Summit will explain the app to inpatient and outpatient clients and work with each person to incorporate the app into their everyday lives. Recovery is a lifelong process, and the Triggr Health app will certainly help.
To learn more about the Triggr Health app, please visit https://www.summitbehavioralhealth.com/the-experience/sobriety-app/.
The Importance of Continued Recovery
Summit Behavioral Health stresses the importance of continued recovery following a formal treatment plan. Life after rehabilitation won't be perfect, but it can be possible with expert help when clients need it the most.
The staff at Summit stays connected with clients after they leave, checking their progress and giving them additional treatment services if needed. The Triggr Health app facilitates this communication in a non-invasive way, giving clients control over their own recovery progress.
Summit Behavioral Health's vigilance in staying connected with patients is made even easier with its partnership with Triggr Health. The app helps Summit's staff foster a lasting professional relationship with each and every client, keeping an open line of communication to the provider to let clients know that help is never out of reach.
About Summit Behavioral Health
Summit Behavioral Health is a network of treatment centers for recovering drug and alcohol addicts. With locations in New Jersey, Pennsylvania, and Massachusetts, Summit Behavioral Health strives to reach addicts and alcoholics who are most in need of recovery.
The personalized treatment programs Summit offers begin with a comprehensive client assessment to understand each person's individual addiction and co-occurring disorders. Then, the expert staff creates a customized addiction treatment plan, which includes holistic treatments such as massage, reiki and acupuncture. Summit also stays in contact with clients after they leave treatment, cultivating a long-term relationship for a lower risk of relapse.
To learn more about Summit Behavioral Health, visit https://www.summitbehavioralhealth.com/.