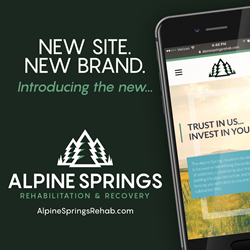 With our new website, we're well-positioned to grab the attention of treatment seekers and their families in 2017 and beyond.
Linesville, PA (PRWEB) January 23, 2017
A Northwestern Pennsylvania addiction treatment center unveiled a brand new website this week at a new domain address. Alpine Springs Rehabilitation & Recovery Center's new website can be found at AlpineSpringsRehab.com.
Alpine Springs has also debuted a new logo along with its redesigned and retooled website. The treatment center has also revamped its social media strategy, which includes sharing more customized and engaging content than it previously had been.
On Alpine Springs' new website, there's a significant focus on the experience offered at the Linesville, Pa. recovery center, which is a historic former car dealership that has been renovated and converted into a modern treatment facility, complete with bedrooms for clients.
"The Alpine Springs experience includes treating each and every client like a family member, thus making it a place that families trust to send their loved one to," said Doug Datish, cofounder of Alpine Springs. "With our new website, we're well-positioned to grab the attention of treatment seekers and their families in 2017 and beyond. Our website clearly explains why they should choose Alpine Springs, particularly if they live in the Cleveland or Pittsburgh areas, or anywhere in between."
Unlike its predecessor, the new Alpine Springs website features an image-heavy blog as well as a vast resources area. The resources section not only directs local residents to gyms, AA meetings, yoga studios and other sources of self-improvement in the area, but it will also feature several eBooks on addiction issues, according to Datish. Additionally, the resources section offers several substantive articles dedicated to various substances – regarding the effects they have on a user, and the best course of treatment.
"Very few treatment centers in our industry have had the foresight to offer resources such as these," Datish added. "This means our website is not just trying to make a case for treatment seekers to choose us, but it also aims to educate the public on various issues that relate to addiction, withdrawal, relapse prevention and more."
Alpine Springs offers a detoxification and inpatient program that accepts adults who are struggling with addiction to either illicit drugs, alcohol or prescription drugs. In addition to appealing to the Cleveland and Pittsburgh metropolitan areas, Alpine Springs also accepts many of its new clients from nearby cities such as:

Erie, PA
Akron, OH
Canton, OH
Columbus, OH
Youngstown, OH
Jamestown, NY
The creation of Alpine Springs was inspired by the life experiences of Datish, a former starting offensive lineman for The Ohio State University who went on to play for three teams in the NFL. After suffering a career-ending injury, Datish said he was prescribed a high dose of narcotics. After the final surgery related to that injury, Datish said he quit the medication but soon found out his body had become dependent on it. He said that was when he realized how quickly and easily addiction can sneak up on anybody, even those taking medication according to a doctor's instructions.
Datish said he's also seen various family members go through treatment over the years, and he saw what happened when the care was impersonal and not individualized. Therefore, when he opened Alpine Springs along with cofounder John O'Brien, he wanted to make sure the treatment was highly tailored to each individual client. This is why each client undergoes a comprehensive evaluation to first assess if they are the right fit for the program. It is only at that time that they go through a bio-psychosocial assessment after admission. This helps the Alpine Springs staff develop a personalized treatment plan for the individual.
Alpine Springs offers a wide lineup of holistic and clinical therapies to help clients heal mentally and physically as they walk down the path to recovery. Thanks to nearby lakes, pastures and mountains, Alpine Springs is able to offer activities such as swimming, fishing, hiking and traditional sports to keep clients active and healthy while abstaining from harmful substance use. Alpine Springs rounds its treatment out with cognitive behavioral therapy (CBT), one-on-one and group counseling and more.
To learn more about Alpine Springs and to see its new logo and website design, visit https://alpinespringsrehab.com/.