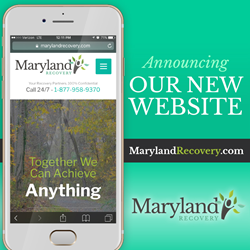 Heading into 2017, we wanted to show that we are ready for the new year and beyond here at Maryland Recovery.
Bel Air, MD (PRWEB) January 24, 2017
Maryland Recovery Center in Bel Air, Md., launched its refreshed website this week at https://www.marylandrecovery.com/. The color scheme remains the same, but the site now features striking, higher resolution images, as well as updated program information and a revamped, sleeker navigational menu.
"Heading into 2017, we wanted to show that we are ready for the new year and beyond here at Maryland Recovery," CEO Jim Haggerty said. "This is why we not only updated the look and layout of our website, but also the new menu that now takes the user through a step-by-step process. The new site now walks you through how our programs work and the difference they can make. We think this progression will more easily bridge the gap between someone seeking treatment and actually receiving treatment."
Based on the reimagined menu, the revamped website places a large focus on Maryland Recovery's treatment philosophy, including its unique approach to fighting drug and alcohol addiction. A new highlight is a featured resources area on the website, which aims to educate users all about addiction in its many forms. Haggerty said he's planning to add dozens of free, in-depth articles on a wide variety of illicit and prescription drugs, as well as on several different types of depression and anxiety disorders.
"MarylandRecovery.com is going to be much more than a place where you learn about our treatment and our programs," Haggerty added. "It will be a place where you can come to inform yourself on all sorts of addictions and mental health disorders. There's no cost for any of these resources, and you can do with the information as you wish.
"We're building up this section of the site because we know there's a demand to learn more about these issues, and because only a small sub-section of that group is actively searching for a treatment program for themselves or a loved one. We aim to become an authority on these topics nationally."
Maryland Recovery's relaunch of its website coincides with its changes in program offerings. The Bel Air-based treatment center now offers partial hospitalization and intensive outpatient options. The partial hospitalization program (PHP) consists of seven days of treatment each week at up to six hours each day. The intensive outpatient program (IOP) features less frequent, but still highly structured treatment, making it a flexible option for those who still have work or school commitments while in rehabilitation. Both programs conclude by preparing clients for life outside of the rehabilitation setting.
The treatment center's new program format was inspired by consumer demand, as well as changes in insurance coverage, according to Haggerty.
Closing in on 20 years of drug and alcohol addiction treatment, Maryland Recovery caters to residents of Baltimore, Annapolis, Harford County and even other states along the East Coast. Treating addiction as well as mental health issues, Maryland Recovery is licensed by the state and certified by The Joint Commission. In addition to clinical therapies, the northeastern Maryland treatment center offers an expansive lineup of holistic treatment services, including rare practices such as equine-assisted psychotherapy and drumming therapy.
To learn more, visit the new https://www.marylandrecovery.com/.