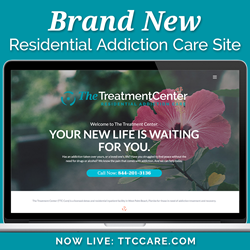 The residential side of our treatment offerings was so popular that we felt it deserved a label all to itself. Thus, a brand was born: TTCCare.com.
WEST PALM BEACH, FL (PRWEB) January 17, 2017
The Treatment Center of the Palm Beaches, one of Florida's largest addiction treatment providers, has unveiled a new brand for the residential portion of its many rehabilitation programs and services: TTC Care. With the unveiling of a new brand comes an all-new website: TTCCare.com
"The residential side of our treatment offerings was so popular that we felt it deserved a label all to itself. Thus, a brand was born," The Treatment Center President Katie Chernak said. "This is why we've created a new, separate website that more clearly articulates the advantage of our inpatient treatment, including the many services and program tracks available to these patients."
TTC Care refers to The Treatment Center's detoxification and residential inpatient treatment in Southern Florida. The TTC Care residential program is for adults 18 and older who are struggling with addiction to either illicit drugs, alcohol or prescription drugs. For children younger than 18 who are struggling with substance abuse, The Treatment Center has a teen program – Teen Treatment Center – that can help with their recovery needs.
The TTC Care inpatient program is highly customized to the treatment needs of the individual. Incoming patients can enter one or more of the following program tracks:

Faith-Based
Court Liaison
Chronic Pain
Holistic Therapies
12 Steps
Aftercare
Teen Treatment
Family Therapy
All of the above services and program options are covered in depth on the new TTC Care website. The site, of course, comes with a new logo for the newly created brand, yet it retains a design that echoes its parent website, TheTreatmentCenter.com.
Besides the Programs pages, another area to pay attention to on the new TTCCare.com, according to Chernak, is the Resources section.
"Our resources area features exclusive content that you won't find on our rehab websites. In fact, very few others are able to offer something this valuable to all of their online readers," Chernak said. "In our resources section, you'll find eBooks, digital brochures and other material that will either help you with your recovery or lead you to treatment. Best of all, all of the content we offer there is free, and we're planning to continually add more resources to that area."
The TTC Care residential facility is located roughly 6 miles from the Atlantic Ocean in West Palm Beach, Florida. The inpatient program is 12-Step-based, but it also features numerous holistic therapies – such as acupuncture, therapeutic massage, Vichy Shower, laser therapy, yoga, hypnosis and much more – to help patients heal physically and mentally. TTC Care's ultimate goals are 1) to restore hope in the lives of recovering addicts and their families, and 2) become a lifelong partner in the individual's recovery journey.
To learn more about TTC Care brand and to explore the brand new website, visit http://www.ttccare.com/.