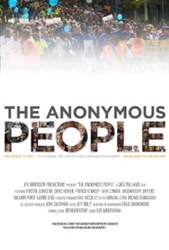 The Anonymous People asks why don't we treat addiction like any other health issue? - Film Producer Greg Williams
Scottsdale, Arizona (PRWEB) August 14, 2013
To bring light to the 23.5 million people in the US in long-term recovery (Drugfree.org), Journey Healing Centers (private drug and alcohol treatment) encourages everyone to see "The Anonymous People." This feature film asks why is shame often associated with addiction versus proactive support for those dealing with this disease. Anyone can attend a special screening in Scottsdale, Arizona, on Monday, Aug 19 at 7:30pm at the Harkins Shea 14, where Addiction Specialists from Journey Healing Centers are happy to answer questions afterwards.
"The Anonymous People" addresses the question, "why don't we treat addiction like any other health issue?," explained film producer Greg Williams. Only about 1 in 10 actually receive treatment due to lack of insurance and costs, leaving over 20 million without professional support (SAMHSA).
This documentary includes interviews with more than 30 powerful voices such as former congressman Patrick Kennedy, Actress Kristen Johnson, NBA Star Chris Herren, Tara Conner, Miss USA 2006; veteran news anchor Laurie Dhue; and many others. To call attention to the need to address this issue, Kristen Johnson shares in the Official Trailer, "Whether we want to admit this or not, this is our black plague."
To foster a long-term sobriety community, Journey Healing Centers offers free aftercare for life for clients and their loved ones. In addition, Journey Healing Centers hosts alumni events on a regular basis. Because 2/3 of families are impacted by addiction, this community is much bigger than many realize.
"The Anonymous People" also asks why does the United States often criminalize and give superficial treatment to the chronic illness of addiction. As a result, addiction now comes with an annual price tag of $350 billion (NIDA and NIAAA). The American approach has put most of the burden of long-term addiction treatment on anonymous, free, 12-step programs. While these programs have done a good job, no other health problem is treated this way.
Along with the filmmakers, Journey Healing Centers supports transforming public shame of addiction into acceptance and proactive support for this community. Similar to the way activists once decided that an honest discussion had to take place about breast cancer, HIV/AIDS, and being gay in order to spark widespread change, "The Anonymous People" encourages an open dialogue about addiction and long-term recovery.
"This film is not your tired old addiction story often seen on reality television or in the news," said film producer Greg Williams. "There are no needles hanging out of people's arms, pictures of the brain, or fried eggs in a pan."
In a recent New York Times article, Kristen Johnson shares, "I've had it. We're not a joke anymore. It's time for addiction to stand up and demand some respect. Because every time someone is ostracized for being an addict, every time there's a breathless, trumped-up, sensational headline, every time we giggle at a wasted celebrity, and every time addiction is televised as salacious entertainment, yet another addict is shamed into silence." Join Journey Healing Centers and the "The Anonymous People" filmmakers by encouraging the public to support the millions in long-term recovery and families impacted by this disease.
Background
Journey Healing Centers are private drug and alcohol treatment centers in Arizona and Utah. JHC has a 95% completion success rate (industry average is 48% according to SAMSHA, Substance Abuse and Mental Health Association) and holds the highest level of global accreditation. JHC provides Residential Programs, Outpatient Facilities, Day Treatment, Sober Living Homes, Family Programming, Free Aftercare for Life and a Sobriety for Life Program. The company has been featured on MTV's Gone Too Far, USA Today, Psychology Today, People Magazine, NPR and many other media. For questions about drug or alcohol addiction, call Journey Healing Centers' 24-Hour Hotline: 1-866-774-5119 or visit http://journeycenters.com.