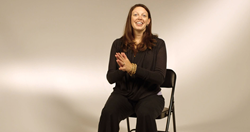 These videos offer people a way to feel better that is simple and accessible.
Long Beach, CA (PRWEB) July 29, 2015
Addiction.com, a comprehensive website dedicated to addiction and recovery, launched a "Two-Minute Miracle" video series featuring quick mindfulness exercises for people in recovery. Each episode highlights a useful technique such as tension-relieving "Lion's Breathing." Viewers learn to let go of difficult emotions using "Finger Holds" and enhance awareness of the simple joys in their lives through "Gratitude Practice."
Featuring Amelia Monteiro, a certified Bhakti yoga teacher, a certifying instructor for Pilates Academy International and former owner of her own studio in Los Angeles, the series will be especially beneficial for those who have demanding schedules or have little patience for lengthy mindfulness routines.
"Even the busiest people have time for a quick, two-minute break," said Monteiro, who has drawn from nearly two decades of experience as a practitioner and instructor in movement and meditation and from her current training to be an interfaith minister to develop exercises that will resonate with individuals in recovery. "These videos offer people a way to feel better that is simple and accessible, but still gives them something to dig into, even for those who have meditated before."
Addiction.com is producing a number of unique video series that promote recovery. Viewers can find new Two-Minute Miracle videos each week at http://www.addiction.com/playlists/two-minute-miracles or on the Addiction.com YouTube channel at https://www.youtube.com/addiction.
About Addiction.com
Addiction.com is an online destination for those dealing with chemical and process addictions, the millions of Americans living in recovery, and the many more who love those struggling with addiction and mental disorders. Through helpful articles, blogs by leading experts, informational videos, meeting and therapist finders, infographics, recipes and dozens of other resources, Addiction.com builds community, awareness and a better understanding of addiction as a chronic but treatable disease.
Addiction.com is owned by Elements Behavioral Health, a family of behavioral health programs located throughout the United States. The Elements Behavioral Health® family of programs offers comprehensive, innovative treatment for substance abuse, sexual addiction, trauma, eating disorders, and other mental health disorders. Through its programs, the company is committed to delivering clinically sophisticated treatment that promotes permanent lifestyle change, not only for the patient but for the entire family network. For more information, visit elementsbehavioralhealth.com.