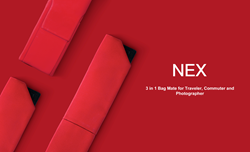 NEX uses patented Air Tech cushioning (like Nike Air technology) to evenly distribute your bags weight across your entire shoulder, making loads feel at least 30% lighter.
LOS ANGELES (PRWEB) June 12, 2019
ADDON DESIGN launched its first product, the NEX air-cushioned bag mate, on Kickstarter. NEX is a 3-in-1 air cushioned bag mate. Featuring shock absorbing air cushion, functional pockets, 5 color options and ultra-compatibility with almost any bag, NEX is tailored perfectly for travelers, commuters and photographers to bring comfort and convenience to the wearer.
NEX is a perfect accessory designed for almost all bags currently found on the market. From travel bags, shoulder bags, computer bags, camera bags, baby carriers, and even to golfing bags. It acts as a natural, seamless accessory for any bag and comes with the following features:

Air cushioned for increased comfort and improved posture. NEX's patented Interlinked Air System connects each individual air unit with nitrogen. This gives better pressure distribution while making loads feel 30% lighter and keeping the user's neck, back, and shoulders aligned in a relaxed position.
Functional pocket. NEX comes with two types of pockets to choose from. The functional pocket is expandable to comfortably store one passport, one power bank and one smart phone at the same time. It's the perfect convenience hack for travelers, commuters, and photographers.
Hidden pocket. The hidden pocket is literally invisible outside while 100% secure and convenient to carry small everyday items like cash, keys and cards.
Cross-body bag. NEX can be worn on its own as a cross-body bag. Users can even use NEX while jogging, at the gym, or doing your daily errands.
5 color options. NEX comes in black, red, blue, green, or yellow. Users can mix and match their favorite color combination.
"We construct NEX with the highest levels of craftsmanship possible and featuring recycled materials to make it Eco-Friendly. It takes nearly the same efforts to make NEX compared to a pair of NIKE AIR shoes," said Thomas Duffy, marketing manager of NEX.
NEX is now available on Kickstarter. The price is only $29 per NEX strap and $55 for double packs. For more information, please visit NEX Kickstarter page.
About NEX:
NEX is designed by Addon Design which is a collection of designers, photographers, and engineers with a single purpose: to give users the absolute best experience possible. The NEX, as well as all of other accessories, are the result of this devotion to functionality, convenience, and quality.
Media contact: theaddondesign(at)gmail(dot)com (Thomas - Marketing Manager)