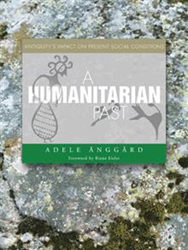 STOCKHOLM, Sweden (PRWEB) February 19, 2016
After author Adele Änggård saw the Stone Age (Neolithic) art as sophisticated and abstract, saying "those artifacts represent a very different value system from today," she began to trace its significance to today's human culture. "A Humanitarian Past" (published by AuthorHouse UK) raises new questions about how humans connect with material and social conditions, unearthing how the material world impacts behavioral responses.
"A Humanitarian Past' takes readers on an eye-opening series of journeys seen through time in Europe, with three major periods of investigation. Old Europe is identified as the Stone Age period; antiquity is largely seen through the last thousand years BCE; and finally modernity and how the present views the past.
With the discovery that the Greeks negated both the earlier art and history in their myths, dramas and epic poems, Änggård lets readers discover that antiquity has drawn a blind over earlier and more humanitarian cultures, writing off their artistic and egalitarian practices. Her narrative further unveils facts about Old Europe's past, evaluates the truth of ideas passed on to people and opens their eyes to the staggering and distorted policies conveyed in ancient Greek myths, dramas and epic poems.
Through her studies revealed within, Änggård concludes that, "People are not aggressive in themselves. They have to be constantly trained or indoctrinated to become violent, which suggests antagonistic characteristics are foreign to human's inherited biological make-up."
"A Humanitarian Past"
By Adele Änggård
Softcover | 8.25 x 11in | 310 pages | ISBN 9781496993328
E-Book | 310 pages | ISBN 9781496993342
Available at Amazon and Barnes & Noble
About the Author
Adele Änggård grew up in a family that moved to different countries in Europe, where foreign policies and social questions were continually under debate. With several artists in the family, travel naturally extended her interest in art, which eventually found an outlet in theatre design. Four decades of costume and set design brought her into contact with ancient Greek dramas and the culture's social relationships, which revealed close connections between people's art and their mentality.
AuthorHouse UK Ltd., an Author Solutions, LLC self-publishing imprint, is a leading provider of self-publishing, marketing, and bookselling services dedicated to serving authors throughout the United Kingdom. AuthorHouse UK is committed to providing authors the best self-publishing experience through a wide array of products and services designed to help individual authors realise their unique creative vision. AuthorHouse UK assigns each author a personal publishing, marketing, and book consultant to provide professional guidance throughout the self-publishing process. To date, AuthorHouse UK has released more than 6,500 titles. For more information or to begin publishing a book today, visit authorhouse.co.uk or call 0800 1974150 or follow @AuthorHouseUK on Twitter for our latest news and updates