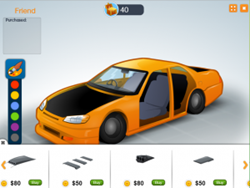 The ACTIVATE report provides us with some very valuable information concerning our daughter and the deficiencies from which she suffers… -Parent
New Haven, CT (PRWEB) November 15, 2013
Connecticut-based C8 Sciences, developer and marketer of a sophisticated brain cross-training program developed by Yale neuroscientists that combines computer and physical exercises designed to help Attention Deficit Hyperactivity Disorder and working memory, recently announced the launch of a new version of that software. Known as ACTIVATE, this new version works on virtually any device including the iPad and Kindle Fire and boasts a new "gameplay" experience that keeps kids engaged while challenging their ability to sustain attention. Other premium features of the new version of ACTIVATE include a new rewards system to motivate kids to stick with the program – allowing them to customize a car, decorate a dollhouse, design a zoo or build a garden – a new School Portal that gives teachers unprecedented access to cognitive data and resources, on-demand professional development which allows any staff member to succeed with minimal disruption and a myriad of new resources and videos for running the Physical Exercise Program.
"With the release of the beta versions of the new HTML5 variant of the ACTIVATE student game and Student Portal for teachers and program administrators, school implementers now have a user-friendly website to manage our program and access the student data," explains C8 Sciences Vice President of Product Management Matt Fitzpatrick. "The initial beta implementations were tested throughout three schools in Hamden, Connecticut – where Yale began the second year of the NIH-funded study of the use of our program for children with ADHD."
Marketed as a "fundamentally different approach to learning," C8 Sciences and its ACTIVATE neuroscience-based cognition assessment and development products are said to have the potential to solve some of the most significant problems facing childhood education. As the only such product offering integrated computer and physical exercises – "cognition cross-training" as it is known by C8 Sciences officials – ACTIVATE is based on proprietary research developed at Yale University by Dr. Bruce Wexler, who was subsequently awarded a prestigious $4 million Director's Office Grant by the National Institutes of Health in order to study the use of this product for treating Attention Deficit Hyperactivity Disorder (ADHD), working memory, executive function and ADHD in the classroom.
ACTIVATE education works in three major ways in the classroom: It improves student attention by finding, measuring and improving specific cognitive functions – what C8 Sciences calls the Eight Core Cognitive Capacities (the "C8") – it enhances academic skills by helping to improve attention, memory, self-regulation and cognitive flexibility to increase student achievement inside and outside of the classroom and, finally, it creates a faster track to inclusion for IEP students, helping special education kids suffering from cognitive defects.
"From ADHD in the classroom and executive function concerns to working memory and Attention Deficit Hyperactivity Disorder applications, our ACTIVATE system does nothing but good for the education sector," concludes C8 Sciences President and CEO Ken Coleman. "With this new version of ACTIVATE, we're pushing the envelope of what is possible even further because we know just how vital improving education is."
For more information, call (203) 435-0288 or visit http://www.c8sciences.com.
If you'd like information on how ACTIVATE™ can help children with ADHD in your school or classroom, then please visit http://www.c8sciences.com/sign-up/activate-webinar/ to sign up for a free webinar to learn more.