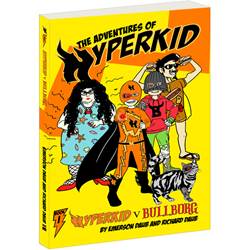 HyperKid v BullBorg is an inspiring story about rising above personal obstacles and the loneliness that often accompanies the feeling of being different.
White Plains, NY (PRWEB) June 07, 2016
Clay Road Press is pleased to announce the publication of "HyperKid v BullBorg", a novel co-written by nine-year-old author Emerson Daub and his father Richard. It is the first title in "The Adventures of HyperKid" series about a hyperactive nine-year-old boy named Morgan Wallace who is transformed into a super-powered cyborg after being exposed to the radioactive rays of a mysterious meteor shower.
After the family doctor is unable to help turn him back into a normal nine-year-old kid, Morgan convinces his parents to let him remain a cyborg and use his new powers to help people as a superhero named "HyperKid". It isn't long before HyperKid's primary mission becomes clear: to defend the kids of West Plains Elementary from Brian Bullini, the new kid in school from rival town East Plains who starts bullying the kids on the playground during recess and after school.
Brian also has cyborg superpowers and becomes HyperKid's arch rival, "BullBorg". The two quickly commence battling each other on the playground, but Morgan would eventually discover that Brian is not actually a bully and that, despite their differences, they have a lot more in common than cyborg superpowers. Their rivalry eventually becomes a powerful friendship, and together they are able to defeat the real enemy: intolerance.
"HyperKid v BullBorg" is an inspiring story about rising above personal obstacles and the loneliness that often accompanies the feeling of being different. It is also a story about friendship and understanding that stems from the recognition that two individuals who come from seemingly different worlds have more in common than not.
"HyperKid v BullBorg" is the second book co-written by Emerson and Richard. The first was an illustrated children's book titled "Spaulding and Zoom" about the adoption of a homeless kitten who mistakenly thought that their grumpy old family cat was its mother. The success of this book inspired Emerson to write another, one that centered around his interest in cyborgs and superheroes.
"Emerson has a very active imagination," Richard says. "Even when he's just playing with his toys, there's always an elaborate story being acted out by customized characters that he created. So when he said he wanted me to help him write a book about a cyborg superhero, he was able to pretty much tell me the whole story right off the top of his head. From there, it was easy to organize it into an outline, which we edited together, and then I pretty much did a straightforward translation into narrative prose."
"It was a good way to work together," Emerson says. "I like being creative and making up stories. Kids will like this book because it has superheroes and action. Kids like that stuff, so that's why I wrote it."
"HyperKid v BullBorg" has been published by Clay Road Press and is available now at Amazon.com or by special order through local bookstores.
ONLINE RESOURCES:
Amazon Detail Page: http://www.amazon.com/dp/0978829883
Main website: http://www.hyperkid.xyz.
Facebook page: https://www.facebook.com/hyperkid
Clay Road Press is an independent publisher based in White Plains, New York. For more information, visit: http://www.clayroadpress.com