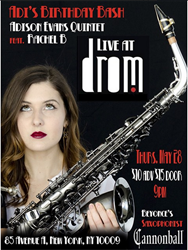 Evans Alliance has enjoyed working with such a fresh and talented musician who has gained notoriety for her undeniable skills. Holly Hill Public Relations and Social Media Manager
New York, New York (PRWEB) May 27, 2015
Adison Evans, saxophonists to the stars, will be celebrating her 25th Birthday Bash on May 28, 2015 at Drom located on 85 Avenue A in New York City. The Adison Evans Quintet featuring Rachel B. will be performing original music for guests as they enjoy "NY's premiere venue for world music" The Wall Street Journal. In the past, Drom has been host to such artists as Vampire Weekend, Pete Rock, Araabmuzik, Questlove and Flosstradamus. Drom's intriguing atmosphere and scalable space has created a buzz within the artistic community which has increased their visibility and potential for varied entertainment. For ticket information: http://www.dromnyc.com/
"After touring the world, it's gratifying to be able to come home and play with the Adison Evans Quintet at a venue where such diverse artists have played in the past! …I just finished recording my first album which will be released in the fall and I feel really excited to share this occasion with the people closest to me and New York" Adison Evans.
Adison Evans, http://www.adisonevans.com, made her premier appearance with Beyoncé in 2013 at the Superbowl in New Orleans where she performed during the Halftime Show. Adison Evans toured as Beyoncé and JayZ's saxophonist for two and a half years during their "Mrs. Carter Show World Tour" and "On the Run Tour". She has been featured in music videos including Beyoncé's "Countdown", HBO Specials and DVDs. Adison has also shared the stage with several legendary artists including Trisha Yearwood, Nicki Minaj, Wynton Marsalis, Christian McBride, Terence Blanchard, Benny Golson, Maynard Ferguson and many more.
Adison Evans attributes her extensive musical knowledge in woodwind instruments, film scoring and compositions to her esteemed degrees from Interlochen Arts Academy and The Julliard School. She regularly performs her own music with the Adison Evans Quintet at a variety of venues throughout New York City and New Jersey and will debut her first album "Hero" during the Fall of 2015. Adison Evans has partnered her passion for music with her love of cooking to produce her own cooking show, http://www.Adisjazzkitchen.com, where she creates a one-of-a-kind experience using all five senses.
Evans Alliance, Adison Evans' Website Developer and Public Relations Management Team, is a full service advertising agency conducting business in the US, Canada, UK, and Asia Pacific. The Agency serves as a one-stop supermarket of branding, advertising, and marketing services for clients of all sizes. As an integrated services firm, Evans Alliance offers clients a blend of strategic consulting and marketing services coupled with key branding strategies and creative outreach which utilizes a multidisciplinary combination of innovative marketing programs. They believe in the aggregate value of excellence in Web Design, Search Engine Optimization, Social Media, Digital Marketing, Print, Radio & Television, Direct Mail, Outdoor, Billboard and Email… the right balance, ratio and timing of all things that engage and proclaim the unique virtues of each business and every brand. Evans Alliance serves businesses in the Consumer Goods, Durable Goods, Retail, eCommerce, Technology, Telecommunications, Financial Services, Education, Construction, Internet, Fine Arts, Health Care and Auction industries.
"Evans Alliance has enjoyed working with such a fresh and talented musician who has gained notoriety for her undeniable skills. Adison Evans has shown years of dedication to her craft and her numerous accomplishments are a testament to the musical artist that she has become. We are excited to share in Adison's 25th Birthday Bash Live at Drom and will looked forward to her album release in early Fall" Holly Hill, MA, Public Relations and Social Media Manager at Evans Alliance.
For more information about Adison Evans visit adisonevans.com
For more information about Evans Alliance visit evansalliance.com