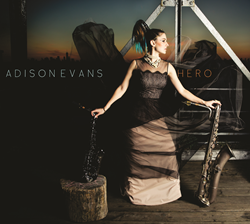 With Hero Adison Evans has made it clear that she is a creatively ambitious and immensely talented unique voice in modern music. This accomplished first release sets the stage for her brilliant future career. - Hrayr Attarian, All About Jazz
New York, NY (PRWEB) February 25, 2016
Known for her work with Beyoncé, Jay Z and Demi Lovato, Adison Evans draws on her influences, travels and life experience HEROes that have influenced her both musically and personally for a deeply personal offering, that encompasses a love for jazz, R&B and positive affirmation.
Adison Evans is a dynamic millennial who has shared the stage with several legendary artists including: Trisha Yearwood, Nicki Minaj, Wynton Marsalis, Christian McBride, Terence Blanchard, Jay Z, and many more. Evans made her debut in the pop world playing at the 2013 Super Bowl with Beyoncé. Upon graduating from the Juilliard School, Evans embarked on a two-and-a-half-year adventure, thus far playing and touring with Beyoncé in the "Mrs. Carter Show World Tour," followed by Beyoncé and Jay Z in the history making "On The Run Tour." Evans can also be heard on the album that crashed iTunes, Beyoncé, and has been seen in many of her music videos, including "Countdown," the HBO Beyoncé specials, and Beyoncé DVDs.
HERO is Evans' debut jazz offering, a well beyond her years emerging baritone and alto saxophonist who has done more world travel at the age of 25, than most of her contemporaries. Evans takes those experiences to task, penning original compositions that offer deeper meaning and a sense of space and rhythm that normally takes years to achieve. Her infectious melodies offer a hand shake of jazz history and bridge-gap of genres with something for every generation to enjoy. Laced with positive affirmation, the Juilliard graduate teams up with long time bandmates from her college days: Matthew Jodrell (trumpet/flugelhorn), Mathis Picard (piano), Dan Chmielinski (bass), Roberto Giaquinto (drums) and special guest Melanie Charles, who adorns the three vocal tracks.
Evans is a multi-talented visionary that takes each opportunity in life and adds vigor and zest to it for an exciting blend. Her experiences as a Juilliard graduate who has traveled the world, a French Culinary Institute trained chef, who also lived in Tuscany, and a guest on top late night TV shows, have combined into a lasting sound that eloquently binds a cohesive calling card of today's jazz musician.
Examples of Evans' versatility can be found in her originals like "Dropbear Boogaloo," inspired by the folkloric Australian Dropbear, motivated with a 16th note based groove and a strong beat. "The Epicurean," written by one of Evans' heroes, Steve Wilson, and arranged by Evans, is what is best in today's modern jazz player, for the following reasons: 1) Evans' baritone saxophone is bold and warm with just the right amount of deep growl; 2) She offers a strong musical theme; and 3) She is a master at developing her soloing into a robust statement. Trumpeter Matthew Jodrell is a perfect musical pairing, offering a focused agile style, while utilizing a broad range on his horn.
Evans has penned 2-out-of-3 lyric-based tunes that feature the soulful vocal sounds of Melanie Charles. "Blue," written by mentor Beyoncè Knowles and Jordan Cruz, arranged by Adison Evans, is profoundly moving. "Mama," an Evans original, is certainly a fitting tribute to Evans biggest hero, her mother - giving the listener insight as to why Evans is such a dynamic young woman. "Do What's Best For You," another original, is an anthem for the everyday person who struggles with the daily grind. In it, Evans has created a strong reminder for each individual to listen to their own heart. The overall message of HERO proves to be an enigmatic journey of life, relationships and love, which is the total human experience and the soundtrack of life.
Recorded at RiRo Muzik in Brooklyn, NYC in April of 2015 and Engineered and Mixed by: Rozhan Razman, including Mastering Engineer: Dave Darlington of Bass Hit Recording, HERO was fully-funded 100% by her fans who were excited about Evans' debut, which gave Evans personal control over the synergetic vision of the project that was release in the Winter of 2016.
Evans maintains a busy touring schedule. With 2016 already bringing tour dates and sold out shows at the Deer Head Inn (NYC) and The Velvet Note (Atlanta) where Evans showcased her tunes from HERO, already achieving a chart showing on the American jazz charts only one week into its global release. "With Hero Adison Evans has made it clear that she is a creatively ambitious and immensely talented unique voice in modern music. This accomplished first release sets the stage for her brilliant future career" Hrayr Attarian, All About Jazz.
Upcoming, Adison Evans will be performing CD release shows in NYC, March 23, 2016 at Fat Cat NYC, the Spring/Summer of 2016 at the Deer Head Inn, NYC and the Fall of 2016 in Atlanta, with a 2017 South Africa tour in the planning.
For more information contact:
Kari Gaffney
706.993.2223
kari(at)karigaffney(dot)com