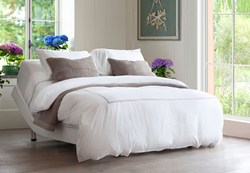 Dallas, TX (PRWEB) August 08, 2013
Adjustable beds are the latest hot-ticket item in the bedding industry, but many shoppers might be wondering whether these products offer actual benefits or just boost retailer's bottom lines. The latest article from Mattress Inquirer seeks to answer the question, "Can an Adjustable Bed Help You Sleep Better?" by looking at benefits and comparing models.
Though these flexible bases have been around for a few decades, it is only recently they have entered the mainstream market. This is due to a combination of factors such as greater availability via online retailers, more affordable prices due to competition, better designs, and an aging population seeking more comfortable products. As more people learn about these types of beds, more are curious as to whether or not it would be a wise buying decision.
Mattress Inquirer sought to help prospective shoppers by explaining who might stand to benefit from this type of bed. Based on reviews and practical recommendations, the potential perks of adjustable bed ownership are identified as reduced back and joint pain, less snoring, mobility, convenience, and alleviation of swelling and acid reflux symptoms. All of the benefits are achieved via the ability to position the head and feet of the base. For example, the blog explain that elevating the upper body can help improve snoring and reduce acid reflux, both of which can be exacerbated by lying flat.
Following an explanation of the potential benefits, Mattress Inquirer compares four models of adjustable bases to show benefits and consumer satisfaction. Models from Astrabeds, Tempurpedic, Select Comfort and Craftmatic are featured and compared on owner review rating, base specifications, and mentions of concrete benefits. The article offers a quick comparison chart followed by a more detailed breakdown of base features and review information. The Ergostar Evolution adjustable bed from Astrabeds had the highest owner rating of 4.6 stars out of 5 from 64 reviews, with multiple reviewers specifically mentioning improvements of pain, acid reflux discomfort, and breathing.
Those interested in adjustable beds or curious about the benefits may find the overview of information helpful as a starting point for their research. Though this article focuses specifically on the adjustable bed bases, Mattress Inquirer also offers several comparisons and articles on mattresses as well.
Mattress-Inquirer.com is an informational blog that provides relevant and recent news related to the health, sleep, and mattress industries. In addition to covering new technologies, mattress reviews and opinion pieces, readers enjoy a variety of helpful educational resources designed to aid shopping and sleep quality.