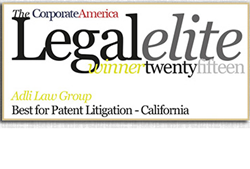 The litigation experts at Adli Law Group P.C. note that there are two areas in the bills that are particularly noteworthy in the way they may influence future patent laws.
Los Angeles, CA (PRWEB) September 23, 2015
According to an article published September 14th on Tech Crunch, the congressional calendar for the upcoming year will likely contain a strong dose of patent reform that could have broad implications for how patent cases are handled by lawyers and their clients. Specifically, the article discusses the PATENT Act, which is currently making its way through the Senate, and the Innovation Act, which is now being discussed in the House. The article notes that these two sets of legislative proposals contain much overlapping material, and are both designed with the primary goal of discouraging lawsuits by trolls, which have been deemed frivolous or predatory, so that one will likely envelop the other. While the article outlines a variety of provisions that may become law if either of the bills were to be passed, the litigation experts at Adli Law Group P.C., led by Dr. Dariush Adli, one of the foremost authorities in the field, note that there are two areas in particular that are noteworthy in the way they may influence future patent laws:

"Pleading Requirements" – The article notes that both bills are aimed at stopping "patent trolls," a term referring to plaintiffs who make baseless or superfluous patent claims in order to obtain a settlement from a business or individual who wishes to avoid going to trial. To accomplish this, Adli Law Group P.C. notes, the bills aim to increase the burden of justifying merit when it comes to filing a claim. If either of the bills passed, plaintiffs would have to state a stronger case for their claim from the very beginning, rather than waiting until closer to trial to for a baseless lawsuit to be exposed.
"Fee Shifting" – Another controversial element of the bills is how it addresses attorney fees, specifically in terms of recovering legal fees from the losing party. Adli Law Group P.C., notes that, while this would likely serve as a further deterrent against filing baseless claims, it could potentially discourage some well-meaning plaintiffs from filing what they view as a deserving claim, simply out of the fear that they will end up worse off than when they started. Adli Law Group advises that lawmakers consider these facts carefully when finalizing any bills that may go into law, as any new law should unquestionably be in the best-interests of any well-intentioned businesses.
Adli Law Group, P.C. notes that, both under the current laws or any future laws discussed in the bill, it is still incredibly important for businesses looking to engage in patent litigation to secure the counsel of an expert legal team. Those interested in seeing exactly what legal expertise Adli Law Group can bring to their business can call the law firm at (213) 623-6546 for a free consultation or visit them online at http://www.adlilaw.com.