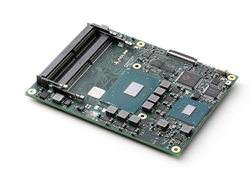 The early COM Express Type 2 specification, supporting PATA IDE and PCI-bus, has been one of the most successful computer-on-module form factors since the PICMG COM.0 form factor's inception in 2005
SAN JOSE, Calif. (PRWEB) August 19, 2019
ADLINK Technology, Inc., announces a new COM Express Type 2 computer-on-module, based on the highly popular 6th/7th Gen Intel® Core™ Processors (formerly "Skylake" and "Kaby Lake"). The new Express-SL2/KL2 module supports all Type 2 related legacy I/Os and thereby allows customers to extend the production life of existing Type 2 based systems for at least another 10 years.
"The early COM Express Type 2 specification, supporting PATA IDE and PCI-bus, has been one of the most successful computer-on-module form factors since the PICMG COM.0 form factor's inception in 2005", says Alex Wang, product manager at ADLINK. "Even today it is still widely used in industrial automation, transportation and specialty device markets. Around 8 years ago more modern interfaces, such as HDMI and DisplayPort, appeared and that is why most new projects nowadays have transferred to the newer COM Express Type 6 pinout."
Type 2 however remains indispensable for many system integrators and OEMs that have ongoing production systems with carriers based on the COM Express Type 2 pinout. "With the recent discontinuation of the hugely popular 3rd Gen Intel® Core™ Processor (formerly "Ivy Bridge"), many customers are now frantically searching for a new Type 2 module to keep existing systems up and running. These customers are in need of a drop-in solution at both hardware and software levels (Intel-to-Intel) with equivalent or improved performance and a better thermal envelope to simplify their transition. The new Express-SL2/KL2 Type 2 module solves this problem," continued Wang.
The new Express-SL2/KL2 features the 6th/7th Gen Intel® Core™ Processors (as well as Celeron® and Xeon® options) and supports the Type 2 pinout with legacy interfaces such as PCI-bus, PATA, and VGA. In addition to hardware compatibility, the Express-SL2/KL2 supports diverse operating systems including Windows 7, Windows 8.1, Windows 10, WES 7, Embedded Linux through the industry standard Yocto Project (https://github.com/adlink), Ubuntu LTS and CentOS. With legacy standard and essential software support, the Express-SL2/KL2 meets your need for a facilitated system migration with performance enhancement.
ADLINK's business model has always been to support legacy designs as long as it is required by our customers. With the Express-SL2/KL2 we are ready to help customers make a successful transition from other vendor's EOL'd COM Express Type 2 modules. As can be expected from ADLINK, we go out of our way to support customers with system bring-up, possible backporting of software, BIOS modifications, and whatever else is needed to make the changeover to the new module as smooth as possible.
The Express-SL2/KL2 is available in both commercial (0°C to 60°C) and Extreme Rugged (-40°C to +85°C) versions.
For more information, please visit: http://www.adlinktech.com/Computer-on-Module/.
ABOUT ADLINK
ADLINK Technology is a global leader in Edge Computing. Our mission is to facilitate the use of advanced technologies to help optimize the business performance of our customers. We provide robust boards, platforms and user interfaces; real-time data connectivity solutions; and application enablement for state-of-the-art industrial computing (e.g., machine learning via AI-at-the-Edge). Together, these also enable innovative end-to-end IoT solutions in support of operational excellence or new revenue streams. ADLINK serves customers in many vertical markets including: manufacturing, networking and communications, healthcare, infotainment, retail, energy, transportation, and government and defense.
ADLINK has an excellent eco-system of technology partners; we are a Premier Member of the Intel® Internet of Things Solutions Alliance, a strategic embedded partner of NVIDIA, and a valued thought-leader and contributor in many standards and interoperability initiatives, including Eclipse, ETSI, OCP, OMG, OpenFog, PICMG, ROS-I and SGeT.
ADLINK's products are available in over 40 countries, either directly or through our worldwide network of value-adding distributors and systems integrators. ADLINK is ISO-9001, ISO-14001, ISO-13485 and TL9000 certified and is publicly-traded on TAIEX (Stock Code: 6166).