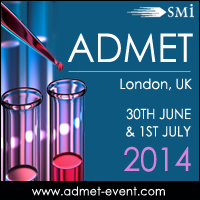 "The ADMET conference will enable leading scientists from academia and industry to discuss the key approaches that can be used to predict, assess and understand drug kinetics, drug-drug interactions and drug safety." - Gerry Kenna, The Research Network
London, UK (PRWEB UK) 4 April 2014
SMi Group are pleased to announce that AstraZeneca Principle Scientist, Richard Thompson, will be providing a keynote address at this year's ADMET conference taking place on 30th June and 1st July 2014 in Central London.
Highlights from the presentation entitled: Risk Assessment and mitigation strategies for reactive metabolites in drug discovery, will include:
Risk factors: drug related and patient related
Risk assessment and mitigation strategies in the pharmaceutical industry
Idiosyncratic adverse drug reactions: Multiple contributory mechanisms
Case study
The presentation, which will feature in the session looking at Predictive Value of Toxicity, will also include talks from Roche, GSK, USB, The Research Network and Imperial College London.
ADMET will provide a mix of case study led presentations, panel debates and keynote addresses that have been tailored to an audience of professionals working in ADMET from drug design and drug metabolism through to toxicology and clinical safety. The above is just a snap shot of what will be covered at the event. To download a brochure visit http://www.admet-event.com.
Some of the confirmed attendees so far include: Janssen, Imperial College London, Sovicell, Lexicon Pharmaceuticals, Genentech, UCB, Roche, MedImmune, Sanofi-Aventis, Novo Nordisk, Novartis Pharma, Vertex Pharmaceuticals, GSK, EligoChem, Debiopharm, Proximagen, King's College London, Admescope, Corning BV plus many more. For further details visit http://www.admet-event.com.
ADMET
30TH JUNE 1ST JULY 2014
The Marriott Regents Park Hotel, London UK
http://www.admet-event.com
About SMi Group
Established since 1993, the SMi Group is a global event-production company that specializes in Business-to-Business Conferences, Workshops, Masterclasses and online Communities. We create and deliver events in the Defence, Security, Energy, Utilities, Finance and Pharmaceutical industries.
We pride ourselves on having access to the worlds most forward thinking opinion leaders and visionaries, allowing us to bring our communities together to Learn, Engage, Share and Network. We hold events in over 30 major cities throughout the world including London, Paris and Singapore and to date have welcomed over 200,000 participants from 80 countries.
More information can be found at http://www.smi-online.co.uk.