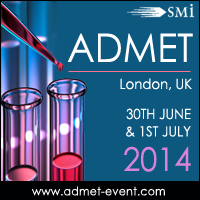 "A state-of the art overview will be provided of the value and limitations of methods which are used currently, while promising new emerging technologies will be highlighted." Gerry Kenna, The Research Network Ltd
London, UK (PRWEB UK) 21 May 2014
The ADMET 2014 agenda has been designed to answer questions such as: What is the role of ADME in drug development? How do you predict toxicity? What added value can PBPK bring to drug discovery? What transporter strategies can we use in drug development?
A snapshot of those who have already confirmed attendance include Astra Zeneca, Debiopharm, EligoChem, Genentech, Imperial College London and Janssen.
In addition to the 2 day conference which will feature an agenda of over 19 case study led presentations, attendees will be invited to attend 2 post conference workshops taking place at the Marriott Regents Park Hotel on July 2nd, for a hands on practical approach.
WORKSHOP A: Computational Approaches in ADMET | 08:30 - 12:30
Workshop Leader: Dr Nick Plant, Reader in Molecular Toxicology, University of Surrey
Within the last few years there has been a step-change in the use of computational approaches to examine biological processes. An important challenge is to use these new approaches to better predict drug action (both pharmacology and toxicology) as early in the drug pipeline as possible. In this workshop, The University of Surrey will be providing a practicable session on computational approaches which will cover both the theory of these new approaches and the application of them to real test case. No previous experience in computational modelling will be assumed.
WORKSHOP B: ADME for the Medicinal Chemist | 13:30 - 17:30
Workshop Leader: Dr Corinne Kay, Company Director, Med-Simple
Med-Simple prides itself in delivering complex medicinal chemistry concepts in an easy to digest format. With a focus on routes of administration, it will begin with an overview of the digestive system and relate each organ to its corresponding ADME issue. Following on from this part 2 of the workshop will look at permeability, Pgp and CYP 450, allowing participants to explore the literature to distil working solutions to recurrent medicinal chemistry issues.
Further details on both workshops and the 2 day event are available at http://www.admet-event.com.
ADMET
30TH JUNE 1ST JULY 2014
The Marriott Regents Park Hotel, London UK
http://www.admet-event.com
About SMi Group
Established since 1993, the SMi Group is a global event-production company that specializes in Business-to-Business Conferences, Workshops, Masterclasses and online Communities. We create and deliver events in the Defence, Security, Energy, Utilities, Finance and Pharmaceutical industries.
We pride ourselves on having access to the worlds most forward thinking opinion leaders and visionaries, allowing us to bring our communities together to Learn, Engage, Share and Network. We hold events in over 30 major cities throughout the world including London, Paris and Singapore and to date have welcomed over 200,000 participants from 80 countries.
More information can be found at http://www.smi-online.co.uk.