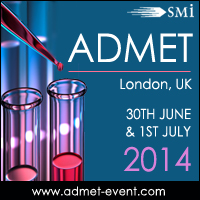 'The SMI conference looks to be a condensed but wide-ranging overview of current issues facing the ADMET scientist. I am looking forward to a good mix of ADME and Tox discussions on both small and large molecules.' David Stresser, Drug Metabolism Services
London, UK (PRWEB UK) 6 June 2014
SMi's 9th annual conference on ADMET will open its door this month at The Marriott Regents Park Hotel in Central London.
Network with the following confirmed attendees:
Admescope, Astra Zeneca, Biolab Sanus Farmaceutica Ltda, Cancer Research Technology, Corning Life Sciences, Debiopharm, Eisai Pharmaceuticals, EligoChem, Galapagos NV, Genentech, GSK, Imperial College London, Ipsen Pharma, Janssen Strategic Marketing, King's College London, Lexicon Pharmaceuticals, Medicyte, MedImmune, Med-Simple, Novartis Pharma, Proximagen, Roche Pharmaceuticals, Sanofi-Aventis, Sovicell, The Research Network, TranScrip Partners, UCB, University Of Sussex, Vertex Pharmaceuticals plus many more.
This year's event will focus on key topic areas such as Predictive ADME, Screening Approaches, Predictive Toxicology, Drug to Drug interactions and emerging issues such as regulatory changes.
The 2014 speaker line-up includes:

Natalie Gobeau, Metabolism and Pharmacokinetics, Novartis
Dietmar-Weitz, Lab Head/ADME In Vitro Systems, Sanofi-Aventis
Sarah Baldwin, In Vitro DMPK Manager, GSK
Chris Powell, VP Safety Assessment, GSK
Georg Schmitt, Head of Toxicology, Roche Pharmaceuticals
Richard Thompson, Principal Scientist, AstraZeneca
Franck Atienzar, Associate Director, In Vitro and In Silico Toxicology, UCB
Adina Tocoian, Senior Clinical Pharmacologist, UCB
David Fairman, Senior Clinical Pharmacokinetist, MedImmune
To view the conference agenda, visit http://www.admet-event.com.
WHY ATTEND ADMET 2014?
Best Practices – Share ideas with industry leaders to identify cutting-edge developments including peptides in drug discovery, the use of label free technologies in drug development, 3D cell culture to predict hepatotoxity, computational models and evolving transporter strategies.
Strategy – Aid your drug development and hear case study driven presentations from leading academia and pharmaceutical KOLS including Novo Nordisk, Medlmmune, Roche, GSK, Astra Zeneca, Imperial College London, Genetech, Novartis and Sanofi-Aventis.
Industry - Learn about hot topics with unique insights into accurate human dose prediction, immunogenicity, H-bonding, cardiac safety, PBPK, pharmacokinetics, risk assessment plus much more.
Regulation – Receive regulatory direction on drug transporters and obtain a comparative review of the EMA vs. FDA guidelines for immunogenicity of biologics.
The Future – Look ahead into the rapidly changing field of computational biology and learn how to apply this approach to ADMET and to your own project.
Places are now filling up fast so those interested are advised to secure their seat today, please visit http://www.admet-event.com to book now.
For further details, please contact Sajid Goraya on email sgoraya(at)smi-online(dot)co(dot)uk or call +44 (0)20 7827 6148.
ADMET
Enhancing Drug Quality by ADMET Optimisation in Discovery
30TH & 1ST JULY 2014
The Marriott Regents Park Hotel
http://www.admet-event.com
About SMi Group
The SMi Group is a highly professional, independent and global event-production company that specializes in Business-to-Business Conferences, Workshops and Masterclasses, and online Communities. The SMi Group creates and delivers events in the Defence, Security, Energy, Utilities, Finance and Pharmaceutical industries. For more information, please visit http://www.smi-online.co.uk.