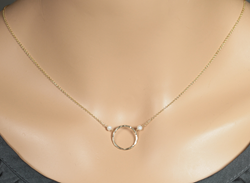 This necklace is a reminder of everyday life and how we work hard to provide for our children, just like our parents did for us.
Brooklyn, New York (PRWEB) September 13, 2016
Brooklyn based AdmirableJewels (http://www.admirablejewels.etsy.com) will be gifting its Circle of Love Gemstone Necklace to select members of the press at GBK's 2016 Primetime Emmys Celebrity Gift Lounge, in association with The Artisan Group®. The Gift Lounge takes place September 16-17, 2016 in Los Angeles, California.
The gemstone necklace is a classic piece designed for women to wear every day. Says Jennie Lau, co-founder of AdmirableJewels with her husband Dong, "This piece can be interpreted many ways. For me, the gemstones on either side of the circle represents my two children, while the center circle represents my husband and myself. This necklace is a reminder of everyday life and how we work hard to provide for our children, just like our parents did for us."
Recipients will find their Circle of Love necklace beautifully wrapped in AdmirableJewels' distinctive branded packaging, tucked inside The Artisan Group's signature black swag bag.
AdmirableJewels is known for its handcrafted, highly detailed yet delicate jewelry incorporating semi-precious stones. "We create for women of all ages and styles," said Jennie. "We're also known for our custom work, which we can do while you wait—we are currently selling with The Market NYC (the Broadway Market Co.), which is open six days a week and is located at 483-485 Broadway in SOHO between Broome and Grand Street.
Popular with Hollywood wardrobe stylists, AdmirableJewels designs have been worn and seen on The Vampire Diaries, Jane the Virgin, Law and Order SVU, The Fosters, Bones, Girlfriend's Guide to Divorce and Pretty Little Liars. The Black Spinel Ball Necklace worn on Pretty Little Liars is now the company's second best seller. The Black Spinel and Garnet Bar Necklace worn on Bones has become their third best seller.
Popular YouTube vloggers Shawnda Patterson, Kendall Alfred, Ashley Elizabeth have all talked about and worn the company's designs in jewelry and accessory review segments.
Shop Admirable Jewels at http://www.admirablejewels.etsy.com, The Market NYC and Artists and Fleas in Chelsea Market and Williamsburg. To learn more about Admirable Jewels, get in touch with Jennie Lau by email or phone using the contact information provided in this press release. Become a fan on Facebook, Pinterest and Instagram and follow the company on Twitter.
For more information about The Artisan Group, visit theartisangroup.org.
ABOUT ADMIRABLE JEWELS
Brooklyn-based AdmirableJewels (http://www.admirablejewels.etsy.com) is the home for the handcrafted gemstone jewelry designs of husband/wife team Dong and Jennie. Each piece of AdmirableJewels jewelry is individually designed by Jennie and handcrafted by Dong. AdmirableJewels strives for excellent craftsmanship and customer service. AdmirableJewels is a proud members of The Artisan Group®, a juried collective of worldwide artists who participate in celebrity and stylist giftings.
ABOUT THE ARTISAN GROUP®
The Artisan Group® (http://www.theartisangroup.org) is a premier entertainment marketing group dedicated to representing small business artisans at the best celebrity gift lounges and press events. The organization provides a collective sampling of handcrafted products to celebrities and members of the press at top luxury gift lounges such as those leading up to The Academy Awards, The Golden Globes, The MTV Movie Awards and The Primetime Emmys.
The Artisan Group also coordinates product placement of its members' handcrafted products on such hit television shows as The Voice, The Vampire Diaries, Days of Our Lives, The Young & The Restless, Modern Family, Jane the Virgin and Law & Order: SVU, among others. Membership in The Artisan Group is juried and by invitation only.