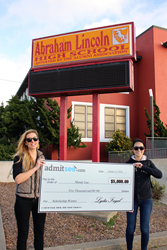 San Francisco, CA (PRWEB) January 26, 2016
Edtech startup AdmitSee today announced the winner of their $5,000 scholarship that asked students to answer the question, "What's the Most Frustrating Thing About the College Application Process?"
The winner, Mandy Gao, an 18-year-old senior at the Abraham Lincoln High School in San Francisco, responded as follows: "As the first person in my family applying to college, it's extremely hard for me to research and have all the information necessary for college admissions. I never knew that colleges require you to fill out essays and supplemental questions to apply for their schools ... Applying to schools can add up, and at the very end, you only choose to attend one school and that college tuition is also expensive!"
AdmitSee had more than 25,000 high school seniors participate in the survey for the $5,000 scholarship. Students from all 50 states submitted responses.
The top frustrations based on word count from the 26,196 submissions are as follows:
1) Essays : 13,500
2) Cost: 13,342
3) Test Scores: 7,973
4) Parents: 5,166
5) Grades: 4,129
Interestingly, students were three times more likely to mention their "mother" and "mom" as the source of frustration than they are their "father" or "dad."
Lydia Fayal, Co-founder of AdmitSee noted, "At AdmitSee, we're well aware of the typical application frustrations: the confusion of where to apply, the burnout from writing multiple essays, the distrust of anonymous forums, the fear of rejection. In fact, our personal application experiences were the genesis of AdmitSee. The scholarship responses reinvigorated our commitment to provide transparency and de-stress the application process."
Many students had emotional responses: one student applying to Drexel, University of Rochester, Johns Hopkins, Vanderbilt and UMD responded that his biggest frustration was: "The feeling that you are drowning in a deep, dark abyss filled with nightmarish creatures from the depths of Hades. The feeling that you cannot do anything to climb back up, nothing you can do to escape the claws of the college applications that hold you back. The college applications that have consumed your life, both the social and emotional aspects. They have turned you into a mindless zombie, an emotionless rock that meanders through life. I hate the stress, because this is what it does to you."
Survey results were collected through an online form. The scholarship was open to all U.S. high school students. The 10 finalists were randomly selected from the pool of entrants. The author of the best response out of those 10 was awarded the $5,000 scholarship. The finalists were all eligible to receive $50 Amazon gift cards.
About AdmitSee
AdmitSee is a peer-to-peer admissions platform and the first searchable database of successful college and graduate school application materials, including essays and advice. It is the go-to pre-professional network for prospective students to gain insight and advice from accepted students and upperclassmen. Its data-driven insights help applicants improve their application strategies, find trusted peer mentors, and plan for their futures. Our mission is to bring transparency to the admissions process and empower students in their decision-making process.