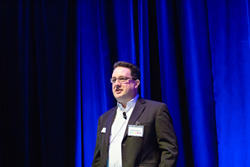 "Security is at the forefront of everything we do," said Christopher Luise, Co-CEO of ADNET. "We're making significant investments in our Security and Compliance teams, resources, skills and technology because we believe it is our responsibility to help our clients minimize their risk."
FARMINGTON, Conn. (PRWEB) August 16, 2018
ADNET Technologies announced today the expansion of its IT Security practice. Since its inception in 1991, ADNET has focused on helping clients implement efficient, secure systems. With more security threats than ever on the horizon, ADNET is committed to helping clients protect themselves by providing additional security services and an expanded team of dedicated security professionals.
Tim Weber has been appointed to lead the Security Services division as Director, Security Services, charged with the development, growth and sustainability of the practice. Weber joined the ADNET team in 1994 and managed ADNET's Infrastructure Services team for nearly 20 years. Weber brings nearly 25 years of experience in IT systems security, design and implementation. The Security Services team will be responsible for working with ADNET clients to align their overall IT vision and goals with creating and maintaining secure environments focused on compliance, disaster recovery and physical and cyber security.
"Hardly a day goes by without a new security threat being reported," said Tim Weber, Director, Security Services of ADNET. "All businesses, regardless of size and industry, are vulnerable, and it's not a matter of if your company will be a target, it's a matter of when and how. In order to effectively protect and support our clients, the ADNET Security Services team is developing new offerings capable of taking proactive measures to help prevent a security event from occurring, as well as detecting and rapidly responding to those events that do take place."
"Security is at the forefront of everything we do," said Christopher Luise, Co-CEO of ADNET. "We're making significant investments in our Security and Compliance teams, resources, skills and technology because we believe it is our responsibility to help our clients minimize their risk."
About ADNET Technologies
ADNET Technologies is a technology consulting firm with offices in Farmington, CT and Albany, NY. Since 1991, ADNET's mission has been to connect people, process and technology to help clients build a better business. For its clients, ADNET strives to be the partner of choice; for its employees, the best place to work. Visit thinkADNET.com to meet the talented ADNET team and learn how ADNET guides clients to better ways to connect, collaborate and compete in a global market.