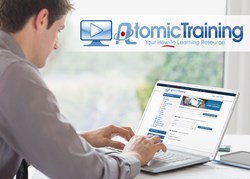 Little Falls, MN (PRWEB) August 30, 2013
Atomic Training has added new Adobe Creative Cloud training courses to its online training library. These training courses dive into the new features of Photoshop®, Dreamweaver®, InDesign®, Flash® and more. Whether you have the latest Creative Cloud software and want to learn how to fully utilize it, or you currently use an older version of Adobe Creative Suite and are wondering if you should upgrade, Atomic Training's new training courses can help.
A brief description of some of the courses:
Photoshop Creative Cloud Training
This online training series takes a closer look at some of the new features of Photoshop CC. Learn about improved tools for enhancing photos, like the new spot removal tool, and the other Camera Raw filters that are now available right within the Photoshop workspace.
InDesign Creative Cloud Training
Learn about some of the new improvements to InDesign CC, including the New Document Preview checkbox, new features for exporting to the ePub format, improved ways to preview and select fonts, and how to generate a vector-based QR code.
Dreamweaver Creative Cloud Training
This online training series explains some of the new features of Dreamweaver CC. Learn how to incorporate new jQuery UI widgets into webpages, insert HTML 5 elements, use the new fluid grid layout tools, and integration of Adobe Web Edge® Fonts.
Other training recently added to the training library includes:

Aperture® 3: Importing and Editing Photos Training
PC Security and Maintenance Training
Window® 8.1: Overview
Word 2013: Building References Training
Word 2013: Tracking Comments and Changes Training
Here's a sneak peek at what's coming soon to the Atomic Training library:

eReaders: Getting to Know Your Device
Dropbox Training
Google Docs: Collaborative Writing in the Cloud
For more information visit http://www.atomictraining.com, subscribe to their blog.atomictraining.com, visit facebook.com/AtomicTraining, follow @atomic_training on twitter, or check them out on
YouTube.com/atomictraining to view a sampling of software tutorials.
Contact:
Clay Moore
866-259-6890 Ext. 221
cmoore(at)atomictraining(dot)com
About Atomic Training:
Atomic Training, now partnered with Geek Squad, provides on-demand software training to help businesses, organizations, and individuals gain greater confidence and success in using the technology that is part of their professional and personal lives. They offer thousands of how-to video tutorials on over 150 software applications. For more information, please visit: http://www.atomictraining.com.