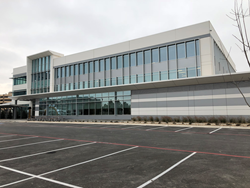 "Working alongside ADAMS to see this project come to life has been a great privilege," said Corbett Nichter, Regional President with AP. "We are pleased about what this new facility means for Apache and the city of Midland."
MIDLAND, Texas (PRWEB) December 06, 2018
Designed by Kirksey Architecture and managed by ADAMS, the project consists of approximately 70,000 square feet of office space to accommodate the company's organizational growth, along with other amenities including an early childhood learning center, cafeteria, fitness center, additional meeting space and a health clinic. Larger amenities such as the cafeteria and meeting space will offer staff opportunities to collaborate and hold larger meetings.
"At Apache, our employees are our greatest asset," said Senior Region Vice President for Apache, Faron Thibodeaux. "We are excited to open our new Midland building – an investment in our employees and their families with benefits such as an early child learning center and health clinic right here on our property."
"Working alongside ADAMS to see this project come to life has been a great privilege," said Corbett Nichter, Regional President with AP. "We are pleased about what this new facility means for Apache and the city of Midland. I am proud of the strong commitment from our team to deliver a state-of-the-art facility."
Construction has been underway since July 2017.
About Adolfson & Peterson Construction
Adolfson & Peterson Construction (AP) is a U.S.-based, privately held builder that is consistently ranked among the top 50 construction managers and general contractors in the nation. Headquartered in Minneapolis, Minnesota, the company delivers innovative and collaborative building solutions for clients across the country from its regional offices in Dallas, Denver, Minneapolis and Phoenix. Founded in 1946, AP serves clients in the education, healthcare, commercial, municipal, multifamily, hospitality and senior living market sectors. For more information, visit http://www.a-p.com or follow us on Facebook, LinkedIn and Twitter.
About Apache
Apache Corporation is an oil and gas exploration and production company with operations in the United States, Egypt and the United Kingdom. Apache posts announcements, operational updates, investor information and press releases on its website, http://www.apachecorp.com, and on its Media and Investor Center mobile application, which is available for free download from the Apple App Store and the Google's Play store.
About Adams
Established in 1986, ADAMS is an independent, objective consulting and program management firm exclusively focused on capital project planning and delivery. ADAMS has built a reputation on providing the highest quality services, and to date has completed over 500 programs, 18 million square feet and approximately $10 billion in capital programs. For more information, visit http://www.adamspmc.com.
Kirksey Architecture
Specializing in sustainable architecture, interior design, master planning, and LEED® services, Kirksey designs high-performance, healthy buildings for all of our clients. Kirksey is organized into focused practice groups—Commercial, Community, Collegiate, Prek-12, Healthcare, Hospitality, Interior Architecture, Renovation, Brand Integration, and Science & Technology — each supported by departments of Design, EcoServices, Information Technology and Marketing. For more information, visit http://www.kirksey.com.