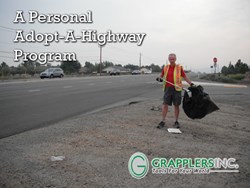 I want to make this the cleanest highway in America!
Sparks, Nevada (PRWEB) December 03, 2013
A man in Sparks, Nevada has been demonstrating his commitment to his community through his use of the Grappler trash pickup tool in the city Adopt a Highway program.
Bruce Osgood, 72, employs his Grappler on a daily basis in a quest to make Pyramid Highway in Sparks, Nevada "the cleanest highway in America." Dubbing his Grappler a "life-saving tool," Osgood cleans part of the highway (Queen Way to near the Los Altos Parkway) Monday and Thursday and the rest of the road (towards Eagle Canyon Road) Tuesday and Friday.
Osgood begins his day just before sunrise, making his six mile trek alongside Pyramid Highway in Sparks. Local passerby knows him well, honking their horns at the well-known volunteer. In response to their friendly acknowledgement, Osgood raises his Grappler high in an extended wave.
The daily sojourns of this committed volunteer began when Osgood had his second stroke. Needing a physical outlet to help control his high blood pressure, Osgood began walking the highway. Osgood noticed the litter along his path and decided to do something about it.
Since that inspiring decision, he can be seen every day, toting his Grappler and trash can along the highway of Sparks, Nevada. Although Osgood tried several other products for his trash collection, none have lasted. Now the avid volunteer swears by the Grappler. As far as his future plans go, Osgood says that in ten years he will probably still be cleaning the highway with his Grappler.
Grapplers, Inc. produces the Grappler for volunteers like Osgood as well as senior citizens, people of various abilities and professionals who rely on reaching and bending for their livelihood. Persons interested in learning more about the Grappler, Inc. business and how to obtain their own products can find out more information at the company's website: http://www.grapplersinc.com/the-grappler/.
About the Company:
Grapplers, Inc. is an award-winning company created by Jay and Bonnie Thiessens. The business creates and sells specialty products designed to enhance life experiences, such as trash collecting, cleaning, and hunting, and make them easier. Grapplers, Inc. relies on state of the art technology to provide these American-made goods to consumers. Famous for their prompt, courteous service and high-quality products, the company maintains a high level of customer satisfaction and takes great pride in keeping this record.