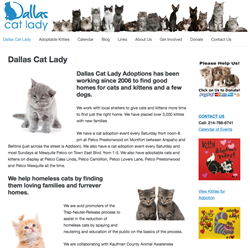 Dallas, TX (PRWEB) March 31, 2014
The Christopher Oliver Agency is kicking off the Dallas Cat Lady Adoptions spring donation drive to raise money for the non-profit organization dedicated to finding homes for cats and kittens and promoting the Trap-Neuter-Release process to assist in the reduction of homeless cats by spaying and neutering and education of the public on the basics of the process. Because spring is kitten season, it is a critical time for saving the lives of kittens, spaying and neutering, and placing cats and kittens in loving homes. Volunteers are encouraged to contact Leigh, founder of Dallas Cat Lady to get involved. Donations can be made through the dallascatlady.org website.
"As part of our ongoing community action program, we are launching a donation drive for Dallas Cat Lady Adoptions. Donations can be made at the dallascatlady.org website and are fully tax deductible. If you want to make a difference in the lives of innocent animals that desperately need your help, then Dallas Cat Lady Adoptions is the organization that deserves your support. If you love cats and kittens and would like to save their lives and help them find happy homes, then please donate to Dallas Cat Lady Adoptions at dallascatlady.org," says Christopher Oliver of the Christopher Oliver Agency of Dallas.
Dallas Cat Lady Adoptions can be reached by calling 214-766-6741 or by visiting them on the web at dallascatlady.org. Dallas Cat Lady Adoptions is a non-profit, volunteer-staffed group that works with local shelters to give cats and kittens more time to find just the right home. They have placed over 3,000 kitties with new families. They host cat adoptions in Dallas every Saturday from noon-8 p.m. at Petco Prestonwood on Montfort between Arapaho and Beltline and also have a cat adoption event every Saturday and most Sundays at Mesquite Petco on Town East Blvd. from 1-5 p.m. They also have adoptable cats and kittens on display at Petco Casa Linda, Petco Carrollton, Petco Lovers Lane, Petco Prestonwood and Petco Mesquite all the time.
The Christopher Oliver Agency is an interactive advertising agency in Dallas, TX. To contact Christopher Oliver, email me(at)christopheroliver(dot)com.