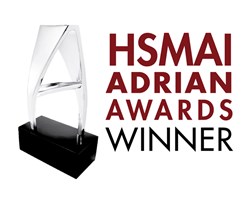 This year, we saw outstanding entries in all categories and in particular an ability to implement integrated campaigns that garnered powerful results across multiple channels.
Pismo Beach, CA (PRWEB) February 17, 2014
This year's contest attracted more than 1,200 entries from around the world, with entries judged by top executives from all sectors of the industry. On Feb. 24, 2014, HSMAI will pay tribute to the SeaCrest and its Life Happens™ campaign during the annual HSMAI Adrian Awards Gala, a black-tie affair attended by more than 1,000 hospitality, travel and tourism marketing executives at the New York Marriott Marquis.
SeaCrest OceanFront Hotel is the iconic oceanfront hotel in Pismo Beach, California. Its Life Happens™ 21-Day Advance Purchase Program campaign is designed with its guests in mind. By utilizing this purchase plan, guests save on all rooms and suites any day of the week while leaving behind the worries of "changed plans." Advance purchases are fully changeable with no penalty or late fees because the SeaCrest understands that "Life Happens™."
"As the advertising, public relations and digital marketing realms are constantly evolving, the bar is continuously set higher annually in regard to the Adrian Awards submissions we receive," said Fran Brasseux, HSMAI executive vice president. "This year, we saw outstanding entries in all categories and in particular an ability to implement integrated campaigns that garnered powerful results across multiple channels. We look forward to celebrating these remarkable winners at the Adrian Awards Gala in February."
In addition to commending SeaCrest's award-winning work, the gala and dinner reception honors lifetime achievement in travel / hospitality marketing, as well as the "Top 25 Most Extraordinary Minds in Sales and Marketing." All winning entries will be accessible in the Adrian Awards Winners Gallery online following the gala at http://www.adrianawards.com.
Visit http://www.AdrianAwards.com for more information on the event and competition.
About HSMAI
The Hospitality Sales and Marketing Association International (HSMAI) is committed to growing business for hotels and their partners, and is the industry's leading advocate for intelligent, sustainable hotel revenue growth. The association provides hotel professionals & their partners with tools, insights, and expertise to fuel sales, inspire marketing, and optimize revenue through programs such as HSMAI's MEET, Adrian Awards, and Revenue Optimization Conference. HSMAI is an individual membership organization comprising more than 7,000 members worldwide, with 40 chapters in the Americas Region. Connect with HSMAI at http://www.hsmai.org, http://www.facebook.com/hsmai, http://www.twitter.com/hsmai and http://www.youtube.com/hsmai1.
About The Pismo Beach SeaCrest OceanFront Hotel
Located on the Pismo Bluffs with direct beach access, the iconic Pismo Beach SeaCrest OceanFront Hotel has provided over 50 years of superior service to its guests. With its newly designed retro-chic look and 21st century amenities, the hotel combines classic tradition with all the features today's discriminating guests demand. Learn more at http://www.seacrestpismo.com.
Join SeaCrest and other local industry professionals as they host their first professional networking mixer as the founders of the Central Coast Chapter of HSMAI. Marco Reginelli, Account Executive & Head of Travel at Google will present "Mobile Marketing on the Central Coast." Then, you will have the chance to discover the benefits of joining HSMAI while enjoying local Central Coast wines. This free event takes place on Thursday, February 27th, 2014 from 5:00 pm to 7:00 pm at the SeaCrest OceanFront Hotel in Pismo Beach, CA.RSVP today to marketing(at)seacrestpismo(dot)com or call (805) 773-4628.