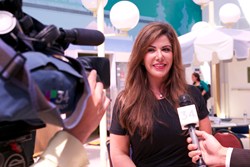 Adriana Gallardo said,"We as Adriana's Insurance feel proud of being here and be part of this noble cause."
Los Angeles, CA (PRWEB) August 04, 2013
Adriana's Insurance, with more than 20 years of experience, was invited as guest of honor at a ceremony at Children's Hospital, Los Angeles on August 1. This ceremony was part of the "International Tour of Generosity" organized by Teletón USA in partnership with Univision.
The ceremony was attended by many important personalities of the Los Angeles business community. The ceremony was presented by León Krauze, anchor of KMEX Channel 34 in Unvision Network and Giselle Blondet actress and host of the show "Latin Beauty" on Univision.
The ceremony was full of emotion especially when one of the children's mothers, Nannette Castro, told her story of how the Hospital helped their family in the time of need. The Hospital receives more than 90 thousand patients every year and with the help of Teletón USA, they will be able to continue with their contributions to the LA community.
César Conde, president of Univison networks presented the check to the Children's Hospital Los Angeles for the amount of $700,000, which we will be used to build a new therapy area in the hospital. Cesar Conde expressed, "This is very important for our community and it is a privilege for Univision to be part of this."
Adriana Gallardo, CEO of Adriana's Insurance, also commented on this special occasion, "We as Adriana's Insurance feel proud of being here and to be part of this noble cause." She also mentioned that Adriana's Insurance will be honored to participate this year.
This is a very special moment for Adriana's Insurance as they celebrate the grand opening of their 55th office in Palmdale California. For locations of Adriana's Insurance, please visit their website at Adrianasinsurance.com.
About Adriana's Insurance
Adriana's Insurance, the largest insurance brokerage with over 20 years of experience in Southern California, has been helping individuals, families and businesses in California find insurance policies they need at the lowest rates possible. With more than 50 locations throughout Southern California, Adriana's Insurance is the fastest growing insurance agency in all of California, and we are eager to meet all of your insurance needs. Whether you are looking for California home owners insurance, auto insurance, RV insurance, motorcycle insurance or business insurance, we can tailor an insurance plan to fit your needs. Adrianasinsurance.com