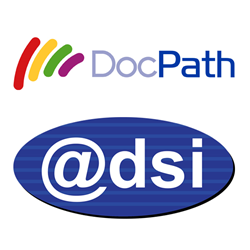 With the goal of integrating state-of-the-art solutions that meet the requirements of financial institutions, the company now also offers DocPath´s Document Output Management solutions.
Tres Cantos (Madrid) , Spain (PRWEB) May 27, 2015
This month, DocPath, a leading manufacturer of Document Output Management solutions, has added Advanced Services International, Inc. (ADSI®) to its Partner Channel. Through the agreement, ADSI has become a new DocPath Partner, which means that the company has received the appropriate training to successfully integrate DocPath solutions at its clients.
ADSI is a multinational company with more than 20 years of experience in providing financial institutions with innovative solutions that meet the business needs of that sector, in order to optimize their processes to the maximum extent possible. This month, the company has taken a step further in its business strategy by joining DocPath´s Partner program as a Certified Partner. As a result, ADSI has expanded its product portfolio with DocPath´s Document Output Management solutions. which offer the financial sector a wide variety of advanced features for the design, management, generation and distribution of high quality business documents, such as contracts, reports, bank statements and receipts, in multiple environments and employing user-friendly interfaces.
The joint efforts of both companies will, without a doubt, strengthen DocPath´s competitive edge and will allow the company to better cover the market of the entire American continent, as ADSI has offices in the United States (headquarters), Bolivia, Colombia, Mexico, Panama and Venezuela. In this way, ADSI will be using its vast business network to bring the advantages of DocPath solutions to its large client portfolio.
Partner Network
The main goal of DocPath´s Partner Program is to build a solid relationship with its business Partners and join forces to offer clients around the world a wide variety of solutions and services that fully meet their document management requirements. Currently, DocPath´s Partner Network includes more than 20 Partners worldwide, which highlights the company´s international presence. However, DocPath´s business strategy is to maintain a limited number of reference Partners, such as ADSI, in each continent, in order to fully benefit from this business channel.
About ADSI®
Advanced Services International, Inc. (ADSI) is a recognized provider of technological solutions in Latin America, Africa and the Caribbean. The company was founded in 1994 with the objective of developing and integrating advances solutions to meet the specific business needs of the financial sector. ADSI´s team of experts are specialized in integrating sector-specific products and services, such as financial applications, card management, mobile banking, report generation and management, security solutions and, through its partner agreement with DocPath, also optimization of document processes through Document Output Management solutions.
For more information: http://advancedservicesintl.com
About DocPath
DocPath is a leading document technology and Document Output Management software manufacturer. Created in 1992, its solutions are found in companies all over the world. Among its international clients are prestigious banks and first class corporations, which are aided by DocPath solutions by simplifying the complicated and critical task involving the design and the distribution of documents. DocPath maintains a strong commitment to R&D&i, an area that receives a good amount of its revenue and which is one of the company´s key success factors.
For more information, visit http://www.docpath.com
DocPath is a registered trademark of DocPath Corp. All rights reserved. Other trademarks may be the property of their respective owners.