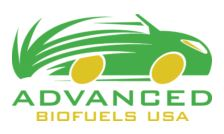 "Until electric vehicles are affordable, available, powered by renewables and use fair trade batteries, many people will still be driving vehicles that need liquid fuels," noted Advanced Biofuels USA executive director, Joanne Ivancic
FREDERICK, Md. (PRWEB) February 08, 2021
With so much talk about carbon taxes, carbon pricing, carbon cost and highway user fees, Advanced Biofuels USA's proposal for a "Disappearing" Carbon Tax, is part of today's launch of The CLEEN Project's co-operative database, a searchable collection of actionable ideas to combat climate change, Build Back Better, and advance climate justice.
The Advanced Biofuels USA proposal emphasizes the environmental justice aspects of assuring that existing fleets and internal combustion vehicles which will be around for decades can have the greenest, cleanest, most defossilized fuel possible.
"Until electric vehicles are affordable, available, powered by renewables and use fair trade batteries, many people will still be driving vehicles that need liquid fuels," noted Advanced Biofuels USA executive director, Joanne Ivancic. "Our proposal to tax the fossil fuel part of transportation fuel and power means that transportation fuels with higher portions of sustainable renewables will be the less expensive—and cleaner, greener—choice during the transition to EVs. This is especially important for those in lower to middle income brackets, those living in rural areas and is particularly beneficial for those in areas of high pollution."
The funds from the fee on fossil fuel will enable sustainable, renewable fuel development from resources as diverse as industrial waste gases, unrecylable plastic and other municipal solid waste; from agricultural and forest waste/residues and from purpose grown crops that might be grown for other environmentally beneficial purposes such as nutrient management, cover crops, erosion control, etc.
"Even when we get to half of on-road vehicles being EVs, half still need liquid fuels. This proposal addresses the needs of those who will be using their liquid fuel powered vehicles for many years by assuring they have access to defossilized, less polluting fuel," explained Ivancic.
The CLEEN Project is our nation's first co-operative idea database designed specifically for federal leaders and focused on providing actionable ideas to combat climate change, Build Back Better, and advance climate justice. The CLEEN Project was created through a collective of more than 200 contributors and 70 Advisory Board members from the private sector, federal and state government, environmental justice organizations, and leading climate-focused think tanks who share a desire to help catalyze job creation and a 21st century clean and just economy.
Advanced Biofuels USA, a nonprofit educational organization advocates for the adoption of sustainable, renewable fuels as an energy security, military flexibility, economic development and climate change mitigation/pollution control solution. Their key tool for accomplishing this is the web site, http://www.AdvancedBiofuelsUSA.org, a resource for everyone from opinion-leaders, decision-makers and legislators to industry professionals, investors, feedstock growers and researchers; as well as journalists, teachers and students.