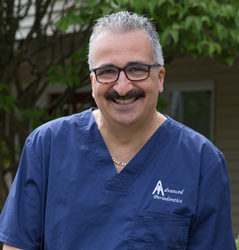 We are poised and ready to grow some more. We can't wait to see what new technology will happen in the next 30 years!
MONROE, Conn. (PRWEB) September 09, 2019
Advanced Periodontics and Dental Implant Center of Connecticut celebrates 30 years of serving Monroe, CT with advanced gum disease treatment and dental implants. Throughout this time, founder Dr. Richard Amato has stayed at the forefront of innovative technology, providing the most cutting-edge treatment available for his patients, from minimally invasive laser dentistry to same-day full mouth dental implant treatment.
Dr. Amato started his practice on December 1, 1989, when he rented a small space from an orthodontist who worked on the other side of the building. At that time, Dr. Amato's practice had one part time employee and was only open two half days per week. Seven years later, they purchased their own 692 square foot space, expanding to two operatories and a three day a week schedule. The practice expanded again in 2000, 2014, and 2017, and now operates in a 3000 square foot practice with seven treatment rooms, a consultation area, call center, private offices, and a team locker room.
In addition to an expanse of space, shifts in technology have also created immense growth for this practice. It began with digital radiology and has grown to include an i-CAT cone beam scanner for guided dental implant placement, PIEZOSURGERY®, and the award-winning 3Shape TRIOS® Intraoral Scanner.
In 2010, Dr. Amato added FDA-approved LANAP® laser gum surgery to his suite of available treatments. A minimally invasive laser dentistry treatment, LANAP not only removes all tissue effected by gum disease, but it promotes healthy gum tissue regeneration as well. In 2014, Dr. Amato pioneered the introduction of the Chao Pinhole® Surgical Technique into Connecticut. Another minimally invasive treatment, the Pinhole Technique can reverse the condition of gum recession caused by advanced gum disease through revolutionary gum grafting techniques.
Last year, the practice welcomed board-certified Diplomate of Periodontology and Dental Implant Surgery, Dr. Michael Kang, to the team, giving them the opportunity to impact more lives throughout the Monroe, CT community. The office is now open Monday through Friday with extended hours, starting as early as 8 AM and remaining open as late as 7 PM. "This is to accommodate our busy patients' schedules," Dr. Amato explains. Thrilled to recount all that has developed in the last 30 years, Dr. Amato adds, "We are poised and ready to grow some more. We can't wait to see what new technology will happen in the next 30 years!"
Individuals with missing teeth or gum disease in Monroe, CT and the greater Fairfield County area looking for a highly experienced periodontist are invited to connect with Drs. Amato and Kang. To schedule an appointment at Advanced Periodontics and Dental Implant Center of Connecticut, visit http://www.connecticutperiodontist.com or call 203-268-2000.
About the Periodontists
Founder of Advanced Periodontics and Dental Implant Center of Connecticut in Monroe, Connecticut, Dr. Richard Amato, and his associate Dr. Michael Kang, are leading periodontists and dental implant specialists who offer personalized care using advanced technology. He earned his DDS degree from Stony Brook University and his Certificate of Proficiency in Periodontics from Eastman Dental Center at the University of Rochester. Dr. Amato has placed thousands of dental implants. He is the first and most experienced provider of LANAP® laser gum disease therapy in Fairfield County, CT as well as the first periodontist in Connecticut to provide the minimally invasive gum recession treatment, the Pinhole® Surgical Technique. Dr. Kang is a board-certified Diplomate of the American Academy of Periodontology. He completed his residency in periodontology from Columbia University and has published numerous articles on implant dentistry. To learn more about Dr. Amato, Dr. Kang or the services they offer visit http://www.connecticutperiodontist.com and call 203-268-2000.